New character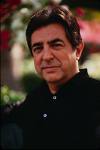 United States
September 27, 2007 7:05pm CST
I have no idea why my other discussion on this subject was deleted. I will try to rephrase the information. I was reading a blog by one of the actresses on Criminal Minds. She was talking about who was playing one of the new criminalists on the show. I was pleased to see that it was Joe Mantegna. I think he will be a good replacement for Mandy Patinkin. He was the dad on Joan of Arcadia and also was on Starter Wife. I like him. What do you think?
2 responses

• Orangeville, Ontario
28 Sep 07
That discussion got deleted? Must have had something to do with the link to the blog. I can't imagine why, though. It's not like it was a link to a paying site. Those are the types of discussions that get deleted. I think someone not knowing the full rules must have placed a report and it got deleted without myLot checking. Who knows why these things happen? I suppose you can PM myLot and ask. I responded to that discussion, which obviously got deleted as well. They will have to come up with a whole new promo picture since Mandy Patinkin is in the forefront of the photo. But is Joe Mantegna going to step in and be the star? Or is Hodges going to move up to the forefront? I didn't much care for Patinkin's character - too intense. I won't miss him. I'm glad the show doesn't conflict with any other shows on the schedule this season so I can actually watch every episode this season... I hope.

• United States
6 Oct 07
I think I dont want mandy patinkin to leave, thats what I think. I like him, he has a awesome character, and i hope they can convince him to stay