Who are those gourds?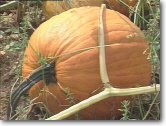 United States
September 27, 2007 9:52pm CST
Mr. Rogers, Zsa Zsa and Longbottom. No, they aren't superheroes or movie stars. These are the names of three pumpkins in Half Moon Bay, California who are being groomed for the largest pumpkin contest. Their growers give them IV injections of nutrition 3 times a day, in the hopes that one of them will tip the scales at more than 1,000 pounds. They are so worried about someone stealing or destroying their prized gourds, that they have installed electric fencing around the garden plot...and (are you ready for this) Hired a 24 hour security guard.
3 responses


• United States
1 Oct 07
I was goofing off with my 3 year old niece this weekend. She loves to get on the internet with me and look at silly stuff. We went to one of the pumpkin contest sites. They get $6 a pound if they win. Maybe these people weren't so crazy after all...If their pumpkin was as big as some of last year's winners, they stood to win over $5000.

• United States
30 Sep 07
I have better things to do than to inject pumpkins, LOL. I wonder if they will be fit to be pie after all is said and done. I enjoyed looking at some 900 lb. plus pumpkins at our State Fair this year. One thing we discussed was how they are transported. Our activities director said that her husband says they are grown on the skid pallets that they are displayed on, so they can be moved with a forklift. Learn something new all the time. I have heard of feeding your pumpkin milk to make it grow.

• United States
1 Oct 07
My grandpa grew some big ones...but never 900 pounds! We never got to weigh his biggest one, because someone stole it from the garden during the night about a week before the fair. It never showed up there, He had put a special mark on the bottom with a permanent marker. He contacted fair officials prior to the start of the checking in process, in case it got entered by someone else. never heard of the milk process. I may need to check that out.

• United States
28 Sep 07
it makes me sick we think more about a stupid punkin than we care about our children these days

• United States
1 Oct 07
Don't you know it? I know that these contests bring in a lot of money, but still...it's a vegetable for goodness sakes. I wish I had about half the money they spent on a security guard for that pumpkin to hire a security guard for my daughter to get rid of the boy at school who is, for lack of a better term...stalking her.