I was wondering if you like pigs?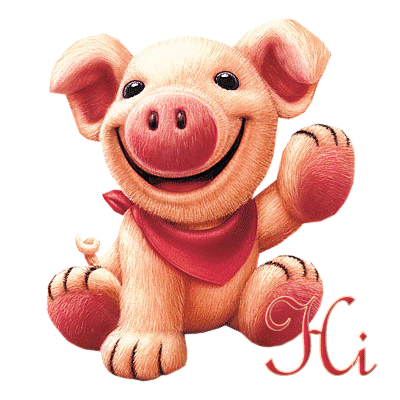 United States
September 29, 2007 8:46am CST
Pigs are my favorite animal! I think they are so cute.. I have pigs all over my kitchen and I used to have apot belly pig in my house...until I had to move out of state so my dad had to take him for me:( His name was Zek..He did die about a year after I left.:( I was so sad it was like losing my best friend...Now I want to get another one but I know it wont be the same as Zek but, after 10 yrs of him being gone it's time for me to move on and buy another one...Oh just thinking about it I'm getting excited!:) Do you like pigs? and WHy? If not what is your favorite animal? and WHy?
3 responses

• China
5 Nov 07
I like them too.They are lovely ,they like sleeping ahd eating.My yard have three pigs at one time.Everyday give them things to eat,when i see they eat things i will think that how the food delicious to them.

• United Kingdom
19 Nov 07
I love piglets, I think they are cute, but they don't stay piglets for long and unless you have a big garden and facilities for them to be happy, and you can't really have just one pig can you, as they get lonely! My cousin adores pigs and whenever I buy her a gift for her birthday or Christmas it is always a pig in some shape, ornament, stuffed pig or anything with a pig on, it's hard to get a card with pigs on tho' My favourite animal is frogs, I once kept frogs and they are fascinating creatures, I loved handling them and they are quite vocal too, a lot of maintenance to look after them, but they gave me a lot in return, they ate the nasty flies and I got all the books making sure they were happy.

• Italy
15 Nov 07
I like very much pigs because they are tender and nice and....so pink!