If God prefers veg dish then why sacred spells, needs blood,to make God happy?

India
October 1, 2007 5:19am CST
Hello friends, I have deep respect for each and every religion and I am a firm believer of God and I request any aethist friend not to make fun of this post as I have posted this post to update my knowledge and better understanding and I expect replies from wise seniour people, as well everybody who believes in God,multiple deities,spells,sacred rituals,meditations or related with spiritual life.Please help me to understand better. IF GOD PREFERS VEG DISH THEN WHY WE NEED BONES,ASHES,BLOOD(HUMAN OR OTHER ANIMALS),SACRIFICE OF ANIMALS, IN SACRED SPELLS RITUALS TO MAKE GOD HAPPY? DO YOU THINK GOD GETS HAPPY TO FIND BONES AND BLOODS IN HIS PRAYER DISH OF SOMEONE WHOM GOD HIMSELF CREATED AND SENT ON THIS EARTH AS HUMAN BEING OR AS AN INNOCENT ANIMAL? DO YOU THINK REAL SPIRITUALITY HAS BEEN DISTORTED BY FEW LESS KNOWLEDGEBLE SPIRITUAL GURUS, OR YOU THINK THESE THINGS REALLY NEEDED TO PLEASE THE GOD AS GOD HIMSELF PREFERS NON VEG DIET?
7 responses

• United States
1 Oct 07
First of all, there is no sacred spell. As for why the blood? Life is in the blood and that is why Y'shua, (Jesus) came because the animal sacrifices were not enough. And because life was in the blood, and man was dying, they needed that life to live. I hope that makes sense, so now, there is no more need for shed blood..:)

• Malaysia
1 Oct 07
hello humbleme,I am a Muslim and I believe in the existence of God.I don't believe that the rituals you mentioned above are part of Christianity.I'm dating a Catholic and he doesn't perform the rituals and he's quite sure his religion doesn't.And I believe,there shouldn't be an intermediate or a 'medium' between you and God.No human sacrifices,animal sacrifices or rituals involving blood or other bodily fluids is accepted in a religion.God is great.

• India
8 Oct 07
Hello sugarfloss, thanks very much for your response, and I appologise for being late to reply your response.You have great views, I have a lot of muslim friends and some of them like you who are absolutely against the human or animal sacrifices, also there are friends who says that its written in the holy Quran,but when I asked them the chapter, they showed me an absolutely new edition of the holy Quran, and the friends who are like you claims that those chapters has been included by some people for the sake of their own interest and its not the original Quran.Do you think The Holy Quran has been distorted otherwise why this difference of opinins?I will be greatful if you kindly clarify.Thanks again.

• United States
1 Oct 07
Dear Humbleme, I am a pagan and not a follower of the Christian God, but as I read the Bible, Jehovah is not said to prefer vegetarian, for Himself or His people. In Genesis we read that he gives preference to the sacrifice of Abel (the finest of hif flock of animals) to that of Cain, his brother (who sacrificed the finest of his crops). Again and again in the Old Testament blood sacrifice is required. It would seem that Jehovah is bloodthirsty indeed. He specifies that He has given all edible plants and certain animals to man as food. The Bible strictly specifies which animals, so it is apparent that He meant some animals to be eaten. The sacred spells about which you have probably read include blood, usually a drop or two of the person the spell is for, because blood is linked to our life force aand to add a bit will more strongly link the spell to the person. There are many gods and goddesses to whom blood sacrifice would be abhorrant. In most polytheistic systems, the sacrifice should fit the diety involved, and most who are dieties over animals would not approve their destruction. Some of the higher dieties might in some instances approve blood sacrifice. Santeria has frequent animal sacrifice in its practice, but I am not familiar with its theology so I caannot say why. I am a pagan whose path is a blend of polytheism and animism (worship of natural forces). My primary diety is a Goddess figure. She could care less about any sacrifice at all and certainly would not wish me to harm any living thing in Her name. Perhaps if you explained just what God you speak of we could help answer this better.

• India
8 Oct 07
Hello catskisses, Thanks very much for your response, and I appologise I couldnot reply in time.You have written "Some of the higher deities might in some instances approve blood sacrifice." What is the meaning and difference between high and higher deities? Do you mean as higher deities accept blood so their position is higher? I will be greatful if you kindly explain. Thanks again

•
10 Oct 07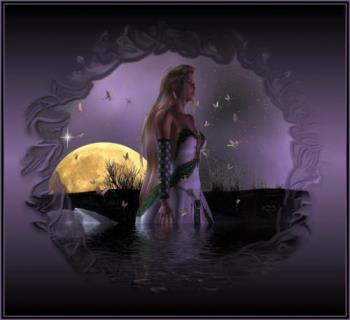 Hi Humbleme. Well, first of all, I would have to say that even the most primitive of people were hunters for food, and I believe in those primitive days maybe animals were used in sacrifice in many traditions, but I think you'll find that they're rarely used in this day and age. Most traditions who cast spells, respect the Earth and all living things, and believe that everything has a spirit, so the practice isn't so wide now. I'm pagan, following the path of a Seax-Wiccan, and I do cast the occasional spell, but our spells are not like you see in the movies... real life spells are quite devoid of bloodspill, in fact. So, sorry, I can't really answer the question you've posed because I can't think of any earthly reason why anybody would sacrifice a living thing to their deities. The worst we might do, and which I refrain from, is to pr*ck our finger and add a couple of drops of blood to a spell to make it stronger but I really don't even agree with that, my friend. Brightest Blessings.

• India
7 Nov 07
Hello Darkwing, Thanks verymuch for your response and I apologise being late to respond to all my previous replies as I had a sudden unexpected road accident in my life and I had tobe hospitalised for a brain surgery to stop the internal bleeding.Now I am fine and on bed rest.Anyways I totally agree with your opinion of this post.Thanks again.

• Philippines
3 Oct 07
I believe that the sacrifices are for the atonement of sins. It is also to share with God as thanksgiving for good harvest. But there was also a time in the old testament that God became angry with His people and that He said that He does not need their sacrifices, what He needs and is more important is for us to obey His laws and commands. Later God sent us His Son Jesus, and Jesus already changed this ways of sacrifices as He is already the ultimate sacrifice and that from then on there should be no more sacrifices to be made. We only have to acknowledge Christ as our savior to be saved and enjoy the fruits of His self sacrifice.

• Canada
1 Oct 07
Hi humbleme, I am a spiritual person, but I do not believe that God requires a sacrifice of any kind, neither do I believe we are required to eat certain kinds of food. Some foods are not good for the body and we should refrain from eating those. Blessings friend.

• India
8 Oct 07
Hello Pose123,Thanks for the response friend, and I appologise for my late reply.I agree with you as it has been proved scientifically too that nonveg diet speacialy meat/beef etc contains carcinogenic properties also can produce hormonal disbalance, genetic balance, skin diseases and a lot more diseases, actually nonveg diet acts like a steroid increases immunity temporarily but leaves a lot of long lasting sideeffects, I am used in veg diet since my birth,but maybe sometimes I take a nonveg meal to change my taste of my tongue once in 2/3 months, but my famaly members and myself are health concious so I avoid nonveg intentionally.

• Pakistan
1 Oct 07
First of all may I correct you.GOD need nothing from humans.if he need something from human he is not GOD.GOD will always give us he will never take something form us.secondly GOD do not preffer any dish neither veg nor non veg.at the end i would like to say that people who are doing all this what you sad is some ting which they should nto do.which is wrong.

• India
8 Oct 07
hello ashtraay, Thanks very much for your response and very well said.I agree with you then I have a question arised in me that why then God sends living beings and human beings on earth?Is there any purpose you think?Please share your thoughts further with us.Thanks again