Cheerleading/Sports: .is it good or bad for your youngster?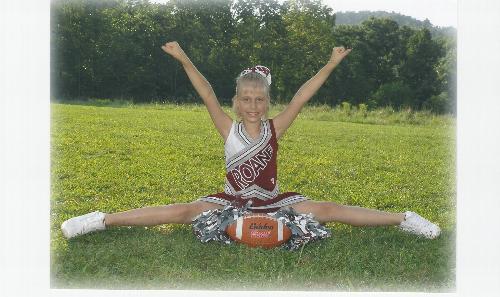 United States
October 2, 2007 7:26am CST
My little girl has been cheering for the past 2 years. She enjoys it, but grade cards just came out and for the first time ever, she brought home 2 C's! This is so unlike her as she is a straight A student. The league says that she can continue to cheer, but I am concerned that it is causing her school work to slip. I am not one of those moms that insist on straight A's, but I do know that she is capable of A's and B's. So...do sports or cheerleading get in the way of your childs school performance?
4 responses

• India
3 Oct 07
Ofcourse anything can get in the way. We must draw a line between them. Sports & extra curricular activities should not be mixed with education. Finally without education these all are of no use..

• United States
2 Oct 07
Hello Darlin, First I'm happy to connect with you. With my recent situation I have been a bit self involved. Sweetie, our kids today are asked to give body and soul to sports or extra crit. type activities.I would tell her that the next card must be all B's or she is off the league! This way you are still leaving the control in her hands and she will know what she must do..She will have to choose and budget her time. One of life's crossroads. Sports are harder to keep up with now!It used to be good enough to practice a hour after school a couple of times a week..but now these kids have to give alot of time to a sport and if you are willing to allow your child that time or the child wanted a life outside of the sport most coached attitude is that there is another kid out there that is willing to give their all.One school gets better so the next must keep up. Sports have become extremely competitive with schools wanting their school to go to the semis and the finals then to the states..etc......so you can understand where the coach's head is at Then there are the parents that live the sport through their child....the dads that duke it out over a play..I'm sure you have heard something in the news about these parents..These parents put pressure on the coaches..so it goes round and round! Honey at the end of the day you have to decide what is good for your child...Is doing well grade wise more important to you or is her cheerleading more important. Which of these activities will assist her in life..prob both somewhat...But Sweets you love her more then anyone in the world so I know that whatever you decide will be the best thing for you and your daughter. Good Luck Sweets xoxoxoxoxoxoxxooxo

• United States
2 Oct 07
Hi ladyljs, If the school is willing to allow her to continue, I would sit her down and explain that she needs to bring her grades up if she wants to keep cheerleading. Contact her teacher and see if she doesn't improve on her quizs/test in the next couple of weeks, if it looks like she is improving then leave her in, but if she can't improve her grades, then it may be interfering with her school work, pull her out..

• Canada
2 Oct 07
Not mine, no ... but then again, that's one of the rules we set out ahead of time. School work comes first, always. If anything secondary is starting to interfere with their schoolwork, then it's time to cut back, and if need be, eliminate, those secondary things. Two years ago my oldest wanted a paper route, so he'd have some extra spending money. I allowed it, with the understanding that his homework and grades would have to be kept up. They have been, because he understands which is more important. My daughter joined basketball and track, under the same conditions. Her grades have never faltered. If they did, she would have had to leave her extracurricular activities until she could manage her workload AND balance the sports. It's simply a matter of priorities.