Did you experience exposed to sunlight for a long time?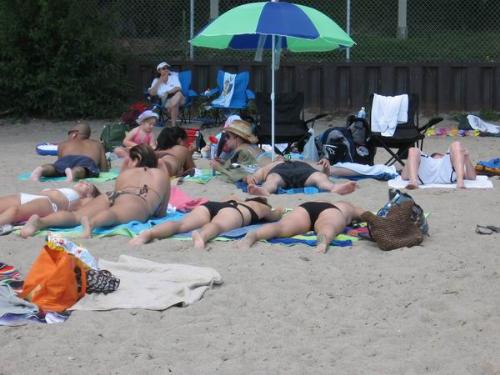 Philippines
October 5, 2007 9:02pm CST
I really experienced being exposed to sunlight for about 3 hours.And it really makes my skin to get sunborn.Ohhh it was very painful.Including my back and my face.Almost week after the sunborn healed.How about u friends,have u experience expose to sunlight long? Do you used any sunblock before exposing to sun?Share your experience here...
2 responses

• Orangeville, Ontario
6 Oct 07
Several years ago, before we knew about the ozone layer and the dangers of sun to the skin, I was sunbathing and I thought baby oil would help me tan. Man, was I wrong! I got burnt to a crisp. The skin on my stomach was so raw I couldn't touch it. I remember sitting at my desk at work crying because the pain was so bad. I actually had a photo take at the time (no I'm not showing it on here!). I don't want skin cancer so I stay out of the sun when I can, and when I can't I ALWAYS use sunscreen often.

• Philippines
6 Oct 07
Ohhh im so sorry to hear that...we should avoid exposed to sunlight.As what ue said our ozone layer is getting thinner and for us people it would be very dangerous to our skin health.So better to avoid exposure to sun.Thank you so much for sharing us your thoughts.But what happen then? what treatment you used to healed that burn?Cos im my case before i dont use any treatment.I just always put some ice on the part which burn.Do you use any medicines?

• Orangeville, Ontario
6 Oct 07
Like I said, this was BEFORE we knew about the ozone. I would have to say it was about 20 years ago - actually more. I don't remember what I did to treat it back then. Today I would use a burn treatment I get from Watkins. I use it on any burn I get from the stove and the pain goes away quickly never to return again.

• Malaysia
8 Oct 07
Oh yes.. many times.. but that was long time ago.. when i used to help my dad in his oil palm plantations.. Oh yes.. you'll get heavy sunburn and yes it is painful.. but after i use to it.. i dont feel it ..that was about long time ago.. we never used any kind of lotion or sunblock that time.. thanks and keep posting.. God Bless

• Malaysia
9 Oct 07
Oh yes.. i used to get exposed to sunlight but it was long time ago.. well i did got sunburn and makes my skin very dark.. but i guess i'm better now.. i dont know.. i just guess..hahaha. However.. i'm dark skinned so its hard for me to say.. if there is any leftonver or marks on me.