What do you do when your daughter won't listen to you?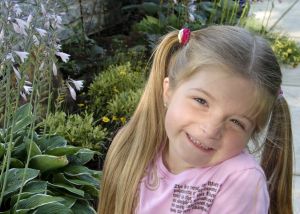 Canada
4 responses

• United States
23 Oct 07
lol...I just had this problem today and my daughter is 40 years old. She asks for my advice and then goes and does what she wants to do. Take it from me...it doesn't get any better as they get older!

• Canada
23 Oct 07
really she is 40 and she didn't listen to you...OMG! I can't wait until she gets older! LOL

• United States
30 Oct 07
It really depends on how old she is, and what the specific situation is. There are times when I would just let it slide, and times when I would be more insistent on compliance. Can you share some specific examples of when she doesn't listen, and how you handle it currently?

• United States
23 Oct 07
I have had similiar problems with my three year old. But, I have found something that works. When I tell him instructions, I first require that he make eye contact, and I'll say something like "son, I want you to pick up your toys, I will set the timer for 5 minutes, if all of your toys are not picked up by then, you will recieve a time out" (or no dessert, or lose privelages (interenet, t.v., xbox whatever your child can't live w/out)) I require that he say "Yes Momma" so I know he understands and agrees to do what I have told him. THen I set the timer, even if he leaves the room and doesn't act like he is going to clean up his toys, I don't say A WORD, i just let him be until the five minutes is up, if he complied, I thank him. If he did not, he recieves his punishment, and then is told to clean up, I would again set the timer and if he failed to comply again, I would make the punishment more harsh, HE's always complied by the second time as he hates timeout. The major thing is to be consistent. Kids are always trying to see if we really will do what we say we will, so we must not dissapoint. If she thinks nothing will happen, she won't listen, and by constantly telling her, you are taking responsibility for it, when you are trying to make HER responsible. SO tell her once, make sure she understands, then expect compliance, and if she refuses, punish her, and if she continues to disobey, up the punishment. You have to find out what she values.. Does she enjoy going to the park? Or playing with friends? Soccer or dance? You may have to be really hard initially, and once she's used to obeying consistently, you can loosen up a bit. Good luck!

• United States
23 Oct 07
Boy am I going through this stage myself. 3 and in love with the telephone. I am having less of a time with her these days. I just tell her what I want her to dao. If I have to speak about it 3 times. I unplug the phone in the middle of her talking. I them place the phone and cord in my room. I am totally not playing the hard headed game with her. Try being constant with your words. If you say your going to do something follow through. Don't allow cryng or even the common excuse. Not talking any bull will soon have things going your way.