Why do some people find 'bodily functions' funny and others are so anal about it


United States
October 28, 2007 9:54pm CST
I'm talking about farting and burping of course...Most people don't go around farting or burping just for the sake of doing it. They are things that the body needs to do and if we know better we don't purposely do them in public to "impress" others! The majority of people who accidently "let one out" or can't hold in a burb will say "excuse me" as we were all brought up to do. BUT there are the occasional instances when it can be funny and anyone with the tiniest sense of humor will laugh. If you can't find humor in something as small as this how can you find it in anything else? I'm sure it's usually the holier than thou type of person who finds it disgusting no matter what the circumstance is. Weren't they ever kids? Didn't THEY ever let out a loud one by accident? Farts and burps happen and that's just a fact of life. We need to start learning to laugh at life don't you think? Why do we have to take everything so seriously all the time?
10 responses

• United States
29 Oct 07
Hear hear and totally agree with you. I always warn those around me if I feel I am about to and can't get away fast enough LOL and if I accidently let one out then i always say excuse me and sorry too. At the moment I am constantly letting them out and stinking up the whole house - not sure what is going on with my body but something is. I don't know why people take things way too seriously and can't have some fun once in a while.

• United States
29 Oct 07
It's extra good when you can warn them when it's comeing and I'm sure they appreciate it!

• United States
29 Oct 07
Some people take EVERYTHING way too seriously, ctry. My kids used to go around the house farting just to get me riled. I finally realized that they would one day get past this stage and learn to control themselves. Happily, they did. I've been around people all my life who think it is great fun to cut loose anywhere, anytime. It has never been my thing to do, but I can laugh with the best of them.

• United States
29 Oct 07
I say if it wasn't funny the old grandfathers would never have done the "pull my finger" thing would they?

• United States
29 Oct 07
I am sory to not agree with this one with you.I can excuse kids, (I think you mean it that way too, maybe talking about your grandchildren)but not to adults.I mean , yeah ok, if it is somebody old and cannot control it, but not young people.I find it disgusting and if someone need to do this body funcion, he or she should leave and go to the bathroom.It is much better like do it in front of other, for example if someone eat.I think this is really disgusting, but it is probably becuase I am from Europe.I see , you Americans make just joke from it.MAybe you are right and it is nothing so awfull, but I was raced other way.

• United States
29 Oct 07
Sometimes if you are stuck somewhere like an elevator or in a tight spot, its hard to hold on to it and it just forces its way out - I have sat down on a chair and let out some air without realising it, haven't you? We were all brought up to be mindful and respectful when it comes to bodily functions, but sometimes it can't be helped. As long as we apologise or say excuse me, shouldn't that be ok? After all, we are only human.

• Philippines
29 Oct 07
I think you just blew out the words that I've been holding for so long time now, for the public to understand more about it!;) I believe that there are times where we can't aivd, people sometimes think of those who fart/burp accidentally are UNeducated people. But what if these happens to them, do they think of themselves as uneducated too? I think not, since most of them are so close-minded and thinks that they are more deserving than the other. I don't think like them, I always believe that I can do anything I want without worrying of what others would think of me. I just let them believe or think in whatever they want, as long as I enjoy what I'm doing!;) There are times that I cannot avoid farting, since I always enjoy a good laugh everyday. That maybe the reason why gases always comes out my body, be it from my mouth or come's out on other sources!;)

• United States
29 Oct 07
I never understood what education has to do with a sense of humor especially in this case. I have a good education yet I can find humor in most things. Life is too short to be so serious.

• United States
29 Oct 07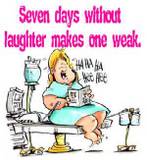 Some people have never learned to laugh not alone laugh at themselves. What a way of life to live in such a starched way. Life is too darned short to live like that. I feel this way, laughing is so much better than crying so laugh and laugh hard! Because I'm going to! Besides, it is a fact of life and nobody can tell me that they don't do it because I'll tell them they're full of sh*t!

• United States
29 Oct 07
I agree with you. Some people have never learned to laugh at the smaller things in life. It doesn't have to bring us personal joy to make us laugh does it?

•
29 Oct 07
I must admit, I am one of those sad people that laugh at bodily functions! Especially when my hubby burps or farts! Lol! He does it on purpose with a silly face just to make me laugh and it works everytime! I have no idea why I find these things funny! It's not funny when I do it, I get embarrassed, but when its someone else, I think it's hilarious! Perhaps I'm just immature lol!

• Canada
30 Oct 07
Hi!Hahaha,hehe.I do this by accident sometimes,but my daughter whos 4 1/2 does it alot.It just comes out when she opens her mouth to talk or so and burp!Even little fairy farts i call them,hehe.Other people laugh at her,they know shes a child so she can get away with it more than a grown up would i think,at least me,haha.No offenece she let one out the other day by mistake and a man looked at her very badly.It wasnt her fault and i did not like what he did and mumbled so,excuse me,but i farted too and louder and stinkier also,He moved away fast,it shut his trap fast.Haha.I never do that,but just couldnt resist a sour pout!Dont hold it against me though,hehe. Peanutjar:)

• United States
30 Oct 07
Some people can be so mean when it comes to kids. Why don't they give them a break? Like they were never kids? One of the responses I got here really piss** me off because I'm talking about my granddaughter who has a mental disability and certainly doesn't know any better. She actually has no control over it so should we be stern with her for doing it? I think not! That's why we laugh and make it funny for her. She does know enough to say excuse me and it was quite a job teaching her that since she has a speech problem. Like I said...some people piss me off!

• Canada
31 Oct 07
I think i know which one you mean,i did not ike the comment they made for being from a certain country and "guess you people are like that"quote.Im not from there but id never say this comment,its like an insult and they think people are a certain way if their from a certain country.Farts are farts and burps are burps,we were born with gas in us even as a tiny baby and we had to learn how to get them out or we would blow up.We are made to pass gas,haha.Its just people who take too much pride in themselves,i think they probably do this more than any one of us and just cannot admit it to themselves,like its a sin or something.Life goes one and so does the gas,hehehe.If only we coud figure out how to get it in our gas tanks,now that would be something,free gas!!Haha Peanutjar;);)

• United States
30 Oct 07
I'm with you hon. We need to see the humorous side of those kinds of things...otherwise life can become pretty boring and painful. Considering the warped sense of humor that my hubby has, as well as the rest of my family, burping and other "interesting" noises provide much comical relief in my house. People sometimes just don't want to be a part of the lighter side of life I guess...and that's why they get so snooty and uppity over such little things.

• United States
29 Oct 07
The simple answer, everyone is different. I think there are instances where it is funny and instances where it's not funny. I think it all depends on certain factors that will make it funny and what not. Some adults never were kids. mentally speaking of course. Physically they were kids, but not always mentally. Don't you remember being a kid? Weren't there no kid-like kids around?

• Philippines
3 Nov 07
Hello! I love burping! lol! I actually do burp a lot and I enjoyed everytime I do it. *wehehe* but I don't do it in public, as much as possible I stop it, I actually can control my burp make it very soft-low-with poise or very loud. If i'm at home I would burp loudly and freely especially when I like to bug my hubby, everytime I burp loudly he would say "you're a pig!" LOL!! 'coz he knows that I did it in purpose...for him! When it comes to farting of course I don't fart around others, it's disgusting especially when there's after-smell..lol. Farting just for the sake of having fun is okay, I find it funny. Me and my hubby do that sometimes, burping contest or farting contest..my stepson loves it..lol! ciao! c",)