How Many MyLotters Wear Acrylic Fingernails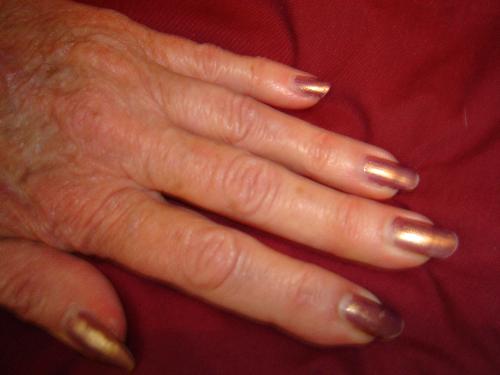 United States
November 5, 2007 8:06am CST
I've always been a big fan of long fingernails. I see them as being very feminine. I've been very fortunate to grow my own nails and never wear acrylics. It's my understanding acrylics are uncomfortable and sometimes painful. What's your opinion?
1 response

• United States
5 Nov 07
I wear acrylic nails. I have since I was 18. I have very weak and brittle nails that don't grow well. In the old days, I used to get the acrylic overlay, where they just put a thin layer of acrylic over your natural nail. But it would break too easily and cost too much to redo all the time. Now, I get the full blown acrylic set. Every three months I have them removed and let my nails "rest" for two weeks. Then I get a new set put on. I find them very comfortable and I feel naked without them. I start off with a very sporty short lenght and let them grown out, just getting fills for the ridges every two weeks. By the time my 3 months are up, they are starting to get too long for comfort. I cannot imagine life without them. I did go almost 2 years without them though. When my son was first born I had them removed. I didnt' want to accidently scratch him or hurt him. Then there was the whole changing diapers thing and that can get really gross really fast with long nails. So I kept them off until he was potty trained. But aside from the short period of time, I have had them continously since I was 18. Thank God, the price has gone down. When I got my very first set, it was almost $75. Very few people did acrylic nails back then. Now, you can get a fresh set for as little as $15 in some areas. HUGE price difference. :)

• United States
5 Nov 07
Thanks for the very informative discussion. Good to know they can be comfortable. Knew they were costly but didn't the exact amount. I'm fortunate to have no problems with my nails. Yesterday I trimmed them as our grandkids will be here next week and didn't want to stab or jab the baby. That happens, as you know.