What do you do if your kid expects you to bring him "something" when you arive?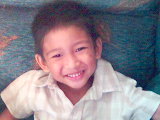 Philippines
November 6, 2007 9:40am CST
This little kid at home always asks me if I have "something" for him. When I say "no" he becomes dejected and felt like he was forgotten or something. Sometimes, he keeps whining that he wants to have something since I came from a longer trip. What do you think should be done here? What would you do if you were the parent?
1 response

• Canada
6 Nov 07
My kids have learned that expecting something from me is the one way to insure they won't get it. I taught my kids early not to expect treats or gifts, that gifts should be accepted with gratiude. It's hard for a child to be grateful or appreciative when they are constantly expecting something. So, the rule was implimented. Bug for something, ask for something repeatedly or expect it, and you won't get it. That being said, I love buying things for my kids. I love surprising them with something I know they'll love, but if they act like they're entitled to it, I'll simply put it away and NOT give it to them until they understand that spoiled 'gimme' behavior won't get them anywhere. Granted, if I'm going on a trip, I ALWAYS bring back something. For instance, I go home to my parents every summer, and I always bring them back something. However, if their first words when I walk in the door are "what did you get me", or I see that spoiled attitude immediately, I'd just put it away for awhile, until they deserved it.

• Philippines
6 Nov 07
That's a good suggestion. I guess that's really a normal thing for kids to feel -- to want to have something new. We just have to learn how to temper it. Thanks again.