A father's rights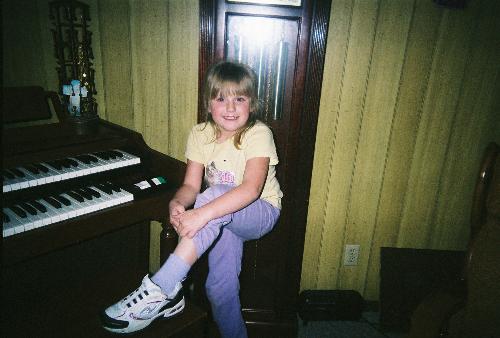 United States
November 6, 2007 10:29am CST
My sons daughter has been place with a family that is not a member or relation to my granddaughter's family her mother gave her to a total stranger and has signed gaudianship papers to this other family with the intent to adopt my granddaughter and I do not believe in my heart that this is fair the other family lawyer wants my son to sign his rights away and never talk to or see his daughter ever again My son has not signed the papers yet and wants to give me just 2 hours a month with surpervision and it would take me about 2 hours to drive to where she is at I feel that if I drive 2 hours to visit my granddaughter then I should have more time to visit with her,one letter a month and one phone call it makes me feel like I am in prison and that I am the bad guy. the mother of my granddaughter lied to everyone and told them that my son and my granddaughter slept together in my apartment which is a bold faced lie my granddaughter always slept with me and was always where I was at the mother told lies about everything my son not keeping in contact with his daughter and not paying child support for her granted my son did not pay child support directly to the mother because it would not be directly use for the welfare of me granddaughter when I had my granddaughter he would buy her clothes which is still hanging in my closet because the lady that has my granddaughter is refusing to let her have them and the two pairs of tennis shoes that is here for her.my question is do any of you think that this is right? what is your opinion?
8 responses

• India
7 Nov 07
Hi, I hope the child should be given the right to have companionship with his parents. Here I too has been faced somewhat near to this problem. In my case I am not allowed to even see my daughter without legal sanction. Hence, my daughter is with her mother and I have to get an order from court to even to see her as she is only 9 months old. Hope all will get well as rules goes on changing. As long as we get a proper legal advice or only through legal way we could get any remedy on this.

• United States
8 Nov 07
I understand you very much and I will pray that you can get this settled with your ex so you can see you daughter I will keep you in my prayers


• United States
17 Nov 07
My son sign gaurdwenship over tome of his daughter and I am fighting for my grandchild and legel services are going to help me Praise God for everything that he has brought me through

• Western Sahara
7 Nov 07
My husband lost his kids as soon as we came to America.The judicial system sees a child belongs to the mother and does not need their dad, so society has to feel the impact of that.I must thank the woman who gave up the father of her kids. With the help of God he is a great father to mine and a good man, pleasing in his Maker's sight.

• United States
8 Nov 07
thank you for your responce and I am glad that you have found a great man

• United States
7 Nov 07
You can check with your state on laws for grandparents. As a grandparent, you should have rights as well. Your son shouldn't give up his rights. Maybe he can get a lawyer that's willing to take his case pro bono (hope that's the right spelling and name for it). She's treating this child very dirty by just giving her up like that. She might not like your son, but gees grow up and don't take it out on the child. If she's old enough, she can tell the court that her dad never touched her. Just ask the judge to listen to her for a change. Good Luck and your in my prayers. I know for a fact that grandparents has rights just as the parents does. My parents have custody of one of there grandchildren and had custody since he was a baby.

• United States
8 Nov 07
thank you very much for your responce I wil keep on fight with my son to get my granddaughter

• United States
6 Nov 07
This is PATHETIC!! You may be shocked, but I'm not surprised at a story like this. I see them all the time from friends and online in general. Your son's ex is doing this for several selfish reasons, plus she knows she can get away with it. You mentioned she lied? That happens both in divorce and in custody disputes. I've read about plenty of women getting away from it, general cases and some personal cases/blogs/forums. The laws and society are stacked in her favor and this is throughout stateside. Some women like you described only look at their husbands/exes as just walking checks. All other fatherly duties and rights are irrelevant to them. Plus if the father is involved in the child's life, the bogus mom will have less success reprogramming the child against him; this happens too and from the look of your story its already happening. No its not fair and unfortunately its still going to continue due to how broken the laws and system are. Just to give a place where other stories like you described happened to other guys http://www.glennsacks.com/blog/index.php#blog I wish you and your son luck in this situation. It'll definitely be tough. What you and your son can do is continue to tell the truth. Do not do anything brash either since that will play in her favor. Also, get family, friends, allies to help you out with your case. You will need more voices in your favor. And I do want you and your son to succeed in this, he has as much right to his child as she does.

• United States
8 Nov 07
Thank you for your responce I will take heed in what you say about getting family and friends to tell the truth again thank you

• United States
6 Nov 07
Oh man, your son is being jerked around. I'm not sure where you are but where I am, this is how it works: If the parents did not have custady established by the courts then either can have the child. Just because she signed something saying she is giving her kid to someone doesn't make it so. Your son still has rights and all she did by signing off her rights is take herself out of the picture. If your son seriously wants his kid back (which I would bet he does) he needs to go into the local court house and fill out the paper work and ask the court to give him custody. He should start looking for a lawyer just in case the other people wanna make a stink over it, but in reality if your son is a compatent and responsible person the court really has no other choice but to give him his child back. If his rights aren't already gone he may even just have to go to a police station and report that his ex relinquished her rights and now other people are holding his daughter from him and may even scare them with kidnap charges because once mommy gave up her rights she had no right to say where that baby girl went.

• United States
8 Nov 07
thank you for youe responce we live in Illinois and his daughter lives in Indiana

• United States
6 Nov 07
I am not sure where you are from but, your son needs a lawyer! I have worked with children in foster care and the courts for years and it is very difficult to take rights away from the parents. Regardless of child support. Don't let your son sign any papers without consulting legal advice. Have him make his payments to the courts! Good luck!

• United States
6 Nov 07
my son has a severed time in prison he can see his daughter but it has to be supervised my son wants to sign custody of my grandchild over to me so at least she will still be with family and can see her father thank you for your responce

• United States
6 Nov 07
It sounds like a complicated story. I think you or your son need to consult with a lawyer. I don't think your son should give up seeing his daughter ever again. What kind of nonsense is that? I think he needs legal advice before he signs anything. Good luck. I happen to believe your side of the story and hope it works out that you can at least see your granddaughter.

• United States
6 Nov 07
thank you for your comment and responce Please pray for us