Men out there: Have you ever kept money in your foot socks?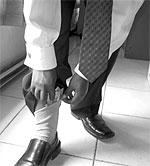 Uganda
November 8, 2007 4:19am CST
Am just wondering, recently I went to buy some grocery and when I demanded for my change back on paying for the items. The shop attendant pulled out money from his sweaty socks. I thought it wasnt healthy but again, I could not just surrender the change-Is it a good idea to keep money in a sock? Have you ever done so?
3 responses

• United States
10 Nov 07
I've kept a spare bill at the ankle from time to time. And it may seem unhealthy, but money is generally dirty and full of all sorts of germs (remember, lots of people have handled it usually and "its been everywhere you want to be"...and other places you don't want to be along with that. As for your story, it does seem weird for the attendant to pull change from his socks. Was the cash register broken or was it user error? (Kidding, :)) I'm betting the register was low on change, and he probably wanted to keep the line moving instead of going out to get change. Funny, since he was just delaying the inevitable. Can't fully get my head around this one Academic.

• Uganda
12 Nov 07
Things get very strange and weird indeed sometimes here in my country-people know there a locker, but they still go for the socks, they know there is bank, but they still keep lots of money in a hole or under the pillow or with a neighbour!! Thanks a lot for your response the programer!

• China
4 Dec 07
Hello dear academic friend. I agree with you that it is not healthy both for him and for the other money-users. It is so strange of the guy to have placed his money in his socks, which I think that no one else would ever do. lol.

• United Kingdom
13 Nov 07
I always put my money in a sock when I go abroad especially when I stay in a hotel, you hear of so many stories of people's rooms etc getting robbed and I always fear that my passport more than money will be stolen. They do provide safes but they cost, I have always put money in my sock, no one would think to look for cash in dirty or even clean socks especially if they are hidden.