Ligers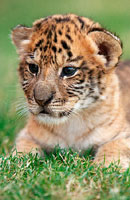 United States
November 15, 2007 2:06pm CST
We've done it...we are now able to breed lions with tigers, against nature's wish. Do you think humans have the right to interfere with nature's course and to alter its species? In 5-10 years when you ask someone what pet do they have, will it sound normal to hear a liger or tigon?
3 responses

• United States
9 Jan 08
Although I have other concerns about hybrid breeding, to say it's against nature's will isn't quite accurate. If their DNA wasn't similar enough they'd be unable to have off-spring. Ligers & Tions have existed for some time already, this isn't a new discovery. None of these animals (tigers, lions, ligers, or tions) are suitable pets and never will be.

• Canada
15 Nov 07
This isn't new. Earliest reports of Ligers date back to 19th century Europe. There is a documented engraving of liger cubs born in 1824. There are situations when territories overlap of tigresses mating with lions in the wild. It's rare, but it happens. How can we claim we're interfering with natures course when these animals were crossmating naturally on their own, going back hundreds of years?

• Denmark
15 Nov 07
Is this for real? This is the first I hear of this creature.