Detroit: Most Dangerous City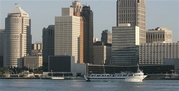 United States
November 18, 2007 4:57pm CST
The yearly crime statistics have just been released naming Detroit the most dangerous city as far as crime is concerned. This news has produced a storm of controversy because opponents say the rating system is unfair and doesn't take everything into consideration when it comes to conditions in cities. They also say this throws a negative light on those cities deemed to be the most dangerous. I say it is what it is. Detroit just barely nosed out St. Louis for the honor this year. Some areas are just known to be high in crime. I don't know if it is a reflection on the law enforcement in some areas, it just happens. The full article can be read on Yahoo News.
6 responses

• United States
9 Dec 07
Do they at least report it as a percentage of crime per the number of people? That would make the most sense, if there were 5 crimes for every 10 people, where as somewhere else was 5 out of 100 people in the cities population.

• United States
26 Nov 07
I live in St. Louis and just like any other large city, there is crime. The areas targeted, putting our city in second place, are areas that have been known for years and years to be unsafe. The suburbs of St. Louis are safe. Law enforcement may be a small portion of the problem but more likely it's the residents of certain particular areas that make it unsafe. I wouldn't walk through any park at night or walk alone in certain areas but would walk after dark alone in the area where we live. I also think the statistics don't show that most crimes are not committed in the burbs by local residents. Most often the thieves come from lower income areas. Overall, the survey should be done more appropriately for each city or municipality and not St. Louis in general.

• United States
24 Nov 07
Yes, you said it, it is what it is! Of course it throws a negative light on the most dangerous cities but it's not as if the statistics are made up. Sometimes it may have something to do with law enforcement but I don't think it's necessarily a reflection on them because it also has alot to do with economic conditions and federal and state funding for police officers, etc. I think anyone who may be considering moving to a city would appreciate knowing where it falls on this list. Annie

•
19 Nov 07
I am never quite sure how they work out these statistics - even here in the UK! I have visited Detroit once when I was about 6 ( a long, long time ago!) and thought it was great! I guess we all have our own opinions but every city has its good and its bad points and I think it must be very hard to compare them as to which is most dangerous! xxxx

• Uganda
18 Nov 07
I have never been to Detroit, and do not know dangerous it really is. But I think Baghdad is more dangerous, unless they are not considering cities in war-torn areas. I also know of some other dangerous cities; 1-Rio-Da-Janeiro 2-Nairobi 3-Mexico City

• United States
18 Nov 07
Yep, I am only 15 or 20 miles from the war zone. These silly reports do nothing but make the top cities look bad. How they measure crime is probably ridiculas. Certain areas account for 80% of all crime, but the entire city gets a bad rap. Excuse me for a second, I have to pull this knife out of my left leg....ok, I am back. I better check to see that my computer hasn't been stolen from under my nose. Detroit has its problems as do most major cities. It is a function of the life cycle of many major cities. They are built up over the decades, see their peaks, become older and decay from lack of funds to keep up the infrastructure. Because of inflation, it is much more expensive to remove the old and replace it with the new. It takes many decades to rebuild, if it can be done at all. To me, I like the outlands and not all the concrete and tar and glass.