What is your feelings on mix kids?

United States
November 19, 2007 4:55am CST
I think they are beautiful. Although, I believe almost all kids are beautiful when they are young. My kids are half Filipino and half Chinese and they have the most beautiful features I seen on earth (well what mothers don't think their babies are the most beautiful ones on earth hehe). I also have cousins who are half Chinese and Japanese, and some who are half Chinese and half white. They are all very beautiful and handsome. But then again I have nieces and nephews who are full Chinese and they are just as beautiful and handsome. What is your take on this?
3 responses

• Kuwait
20 Nov 07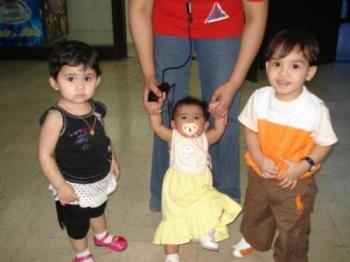 Mix Kid's are beautiful, each mother will tell that thier kid's are sooooooooooo cute and nobody else in thier eyes. Im married also in kuwaiti guy and we have 1 daughter, she's already six month old. try to see her pic
@
friendster.

• United States
21 Nov 07
She is very cute. I notice all the children have these gorgeous eyes. I have to little daughters, you can see their pictures on mommy4jnb.blogspot.com.

• Philippines
20 Nov 07
Hi cartoon4umaniacs! I think all children whatever race they have are all beautiful. Their innocence and pure hearts are the attributes that radiates which makes one find beautiful in every face of young children. Take care and have a nice day. :)

• United States
20 Nov 07
Thank you dear for the sweet comment.

• United States
19 Nov 07
I think all kids are beautiful. Mixed kids are more awesome because they are a physical blending of cultures, I think.