Turkey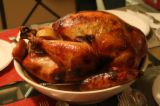 United States
November 20, 2007 8:34pm CST
How do you cook your turkey? Do you bake it, fry it, boil it, etc. I am interested in knowing how and why you cook your turkey the way you do. We bake our Turkey and always have. I have just recently heard about frying turkeys, I will have to try that some time.
6 responses

• Cebu City, Philippines
21 Nov 07
Im sorry to tell you this, but in all honesty i have not eaten turkey in my whole life. I guess this will only be a wish. Im fromt he Philippines and turkey is not as normal something to cook thanksgiving. Maybe be it tastes good. I hope I can eat turkey someday.

• Cebu City, Philippines
28 Nov 07
I will surely have a taste of this great looking turkey that I only see on books and see on tv and mocies. have a nice day to you!

• United States
21 Nov 07
I stuff and roast my turkey. I love it that way. I woudln't mind trying a deep fried turkey, but I would need to have people coming over to do it myself. Someone would have to be able to watch my son while I did it. I always make sure to rub down the skin with butter and seasoning so that it gets brown, crisp and flavorful. This year I'm going to put some carrots and other vegetables in the pan with the bird to add more flavor to the drippings for the gravy.

• United States
21 Nov 07
I don't even bother with this anymore. I use to cook turkey and it always ended up in the trash. it was baked and very dry to eat. Yes I have heard so much about fried turkey. This is something I would love to get a taste of.


• United States
21 Nov 07
I usually bake our turkey. I do like deep fried turkey though. I like to inject my turkey with creole butter sauce and stuff it with homemade dressing. I then bake it slow and keep basting it or put it in an oven bag. I love turkey and all the great leftovers you can fix from it.