What is your favorite cross stitch you have ever done?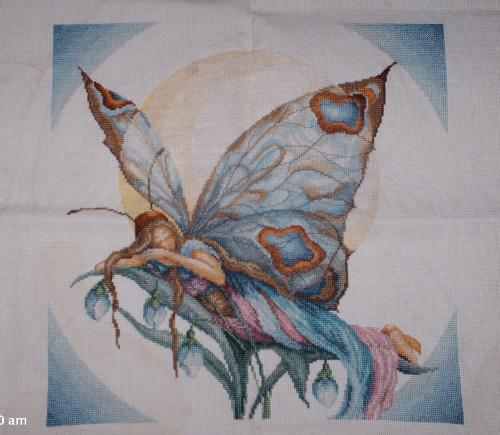 United States
November 21, 2007 4:00am CST
I know most of us can't choose just one piece that you enjoyed the most. All patterns have their different quirks about them. But I am curious to see what your favorite on or one you really enjoyed working on looks like. I have a few of them but I will just post one of my most recent ones for now.
7 responses

• United States
21 Nov 07
My favorite piece was the 'Serenity Prayer' that I did for my stepfather. I designed a leafy border, with butterflies, to go around it. I did it in mostly greens with backstitch letters, and it is about 12x18 on 14-count Aida. I did most of the work on the airplane flying to and from England, where we went when our grandson was born. That piece will always be special for commemorating so many different thing!

• Philippines
6 Dec 07
Angelica by L&L the nicest I have done. I have made many and give it as gifts to my friends on borthdays and christmas. The biggest I've done was the cherubs in 10 counts. It wasn't actually mined. My mom's friend made it and she messed up so she send it to me to fix her mistakes. I end up removing almost all stitches and stitching it again. I like to do the angels patterns. Since I love angels. But theres not much free patterns on thee internet. Though I have found some but I like the L&L angel patterns

• Philippines
7 Jan 09
Hello selveit2004. I have a few cross stitch designs that I made. My favorite though is a girl lying on bed. I like this design because its very peaceful and its nice to place it near your bed.

•
2 Apr 08
I only do Winnie the pooh cross stitching. I dont really have a favourite, though Ive started a snow scene one which im finding difficult as its on a blue aida sheet. Ive only got a tree, abit of snow and all the back stitching to do!!!


• United States
18 Jan 08
I do not have a picture of my favorite project - but it was a piece worked for my father, one year as a veteran's day gift. It featured one of the verses from America the Beautiful (how my father loved this country) "o beautiful for heroes proved, in never ending strife, who more than self their country loved, and mercy more than life. America, America, may God thy gold refine - till all success be nobleness and every goal divine...." It was bordered with a red and white star and block pattern and the script was in dark blue. I had it professionally framed my father was a true hero to me and he really was honored by the piece, that is why it was my favorite ever done, though not necessarily elaborate - it elicited much love and happiness.

• United States
15 Dec 07
I have this cross stich I have been working on for over a year! I really love it it has a tower with a girl petting a dragon. Oh it's so beautiful. But I think I messed it up really bad and I've got the dragon's head almost done. So I really don't want to re start it. But I think I'm goign to have to. Lol