Do you fill a Christmas stocking for your dog?

Canada
November 21, 2007 10:52am CST
Christmas is coming!!! Do you include all the memebrs of you household in the holiday? Includeing your pets? I always try to do Christmas for my pets as if they were children. They are after all my children, as far as I am concerned. So I fill a stocking for them and I make sure they don't see anything that's going in it before Christmas Day. Do you do Chrsitmas for your pets like they are children? Do you go all out or just get them a couple little things?
5 responses

• United States
21 Nov 07
My dog is definately a member of the family, but we usually just gt him special christmas treats, or a new toy for Christmas.

• Canada
22 Nov 07
This will be our puppy's first christmas and she will be getting lots of special presents. My kids and I will buy her some of her favorite treats and some new toys and we will be putting out her stocking for Santa. She is just like our new baby, it just wouldn't seem right not to include her in the holidays.

• United States
21 Nov 07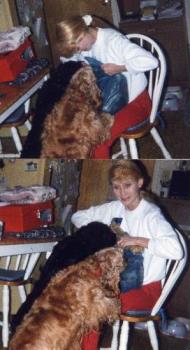 I used to do that for my cocker spaniels when they were alive. They loved it so much that they go nuts over the idea they had something that "mommy got for them or daddy got for them" We'd say "Awwwww! Look at what mommy got for you!" and they'd come a running and then dance and jump on us to see what it is and they'd bark and bark excitingly. Gosh, talking about them and all makes me miss them even more!! I've included a picture for you to see. They were really excited and it's funny to see it in the picture.

• United States
22 Nov 07
Oh no it didn't make me sad, I'm remembering the happier times when they were with us and wanted to share it with you! I do miss them terribly but we all know that they're with us for a borrowed time and then they go back "Home" where they'll wait for us. I can't wait to see them some day and all the others that have gone over the Rainbow Bridge.

• United States
21 Nov 07
Yes, she has her own stocking, and 'Santa' brings her goodies that she doesn't get to have til Christmas Morning. I also take her picture each year by the Christmas Tree with her red and white Christmas collar on. She usually gets a wrapped gift from my sister (who lives in Texas) and from my daughter who also buys Christmas for her dogs.

• Canada
24 Nov 07
We have cats and they all get treats in their stockings every year. They are members of our family and the kids like to included them in the festivities. They seem to know what is going on too and are in spunky moods that day too.