gimme more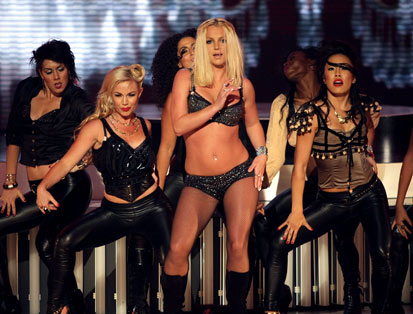 Philippines
November 22, 2007 8:20pm CST
What can you say about Britney's Single entitled "Gimme More"? It's actually my LSS now:)
5 responses

• Philippines
23 Nov 07
Ok the song is ok, but, during the mTV awards Britney looked so unsure of herself.

• United States
9 Jan 08
I love britney! =] she DID look unsure of herself in that outfit, but gotta give the girl props for having 2 kids and then having the confidence to get right back out there and present herself in that outfit to the whole world!!! =]

• United States
8 Dec 07
To be honest, I haven't had the chance to hear it yet. Given that it's your LSS now, though, I could only surmise that it must really have an easily catchy tune. Thanks to your nice discussion, I'll try to listen to it as soon as I get hold of a copy of it. Salute to wonderful music and Happy myLotting, micamyx! ;)

• Australia
23 Nov 07
is it good?...actually, i haven't heard of it...and i want to listen to it 'cause britney is always known to have good music...i am also intrigued if what the DJs said...i am here in australia...and there are two DJs in a radio station that i listen to which commented that it falls from their expectation... about her performance in that MTV, i haven't seen it...but i read in the paper that there are some people who gave an offensive feedback that really made britney cry...

• United States
25 Dec 07
I love the song and I was just listening to it, right now i'm listening to the remix of the song. I've loved Britney Spears ever since middle school and I will always be loyal to her because she is like so awesome. Have you heard of her new song "piece of me", it's just as catchy as gimme more and it has more substance I love both of them.

• Romania
4 Dec 07
iasi da eu mai mult lui britnei am si eu o intrebare: sunt singurul care scrie in romana de pe aici?