Christmas Time .......Silent night or a Runway?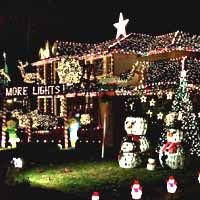 United States
November 22, 2007 9:45pm CST
Well now that Thanksgiving is now over and most people are starting their Christmas Decorations I have a question for everyone. When it comes to Christmas Decorations do you do the minimum, none, or do you try to bring down low flying airplanes? At our house we try to bring down low flying airplanes being that we light up everything and our yard is in perpetual daylight from all of the artifical lights we use outside. Inside our house is usually done minimally but the outside is bright. So, tell mee, NONE, MINIMAL,or RUNWAY LIGHTING?!? What is your style? ~~~~~~HAVE A GREAT DAY!!!~~~~~~
4 responses

• United States
25 Nov 07
for me this season is more of silent night. I don't like a ton of lights or even those blow up inflatable lawn things. Too me that's too much and takes away from what I celebrate the holiday for. I like decorations, but I like them to be minimal can classic.

• United States
25 Nov 07
Wonderful point, minimal and classic. I have seen so many around that are just overkill. They look so cluttered and gaudie. Thank you for the comment and have a great day!!!

• United States
23 Nov 07
My husband likes to go all out if he could,but I usually don't like to over do it. I like it pretty simply and alittel lights here and there. I usually focus on the chirstmas tree. I like my tree to look top notch if I can get it there.

• United States
23 Nov 07
Taht is mee also. My wife is the one that makes mee hang all of those lights. I like the UNDERSTATED rather than the OVERSTATED although I do like looking at all of the lights as I think that they are beautiful. If it were not for the fact that I am married with Children, I would not even decorate for the holidays, but I would still like to look at them. Thank you for the response and have a great day!!

• United Kingdom
12 Dec 07
Some neighbours go OTT and decorate their houses inside and out and they look more like santa's grotto! We have a quiet affair, we have a tree up with lights and that's it, we don't go overboard, we always have an artificial tree because we don't like to tear trees down just for a few weeks then dispose of them, hardly good for the environment. I love decorating the tree, but find it sad putting it away, Christmas goes too quick, so much preparation just for two days.

• United States
7 Dec 07
We do pretty minimal Christmas decorations. This year we decided to do none outside, but inside our dining room is all decked out. That's it, though. We have the tree, a light up deer, and a couple of small floor decorations.