Pets and the Holidays

United States
December 1, 2007 3:15am CST
Are your pets active around the holidays? Our pets tend to be. The Ninja (our newest kitten) adored Halloween...fascinated by the people dressed up walking by our house, coming up for trick or treating, et cetera. She played with candy wrappers and pieces of gum and had a blast. Ozzie, our oldest cat, also was interested (which is rare, 'cause though he watches EVERYTHING we do..he's never much cared for our silly human traditions :P . Everyone loves thanksgiving because of the turkey. The dog and all three cats, along with the entire family is always crowded all in the kitchen, waiting for the awesome smelling thing to come out of the oven so that we can devour it. Though The Ninja and I share a liking to the pumpkin pie also. Now christmas time is just around the corner, and the Ninja's attacking the tree with joy, the dog's sleeping under it..and when the day rolls around, we'll all be ripping open presents (kitty claws, doggy teeth, and human hands..we really do each open our own presents lol). Minus Ozzie, who says as his faithful adorers, we should open his presents for him. Lol. So..if you've pets, do they involve themselves in your celebrations and get-togethers? Not just Halloween, Thanksgiving, and Christmas...but other holidays as well? Do you have any cool stories about such times with your furry family members? Or not so furry? Do tell ^_^
4 responses

• United States
1 Dec 07
Well, I don't do much celebrating around here, so the cat's can't help us much. When my bro had a dog or cat, they might sleep under the tree, but they were pretty good about not messing with things. My sister's dogs would open my presents to her frequently - probably because of some residual cat scent on the present inspite my best efforts!

• United States
1 Dec 07
Heh, aww. That brings back memories for me, some. I don't know. Pets make the holidays interesting..even if you don't much celebrate them.

• United States
7 Dec 07
I have a cat and a bird. Timmy my bird chirps like crazy when I light the tree and the village up.My kitty Char will only look now, as she has learned not to play with the tree. But I think they both know there is magic in the air. For Halloween and Thanksgiving I was at work and did not get home until later.

• Australia
2 Dec 07
Um, my dog is quite lazy so no he doesn't get that active. I guess around christmas time my younger brothers and sister are playing in the yard with all their new toys and that gets him excited. i think i'm the more excited one over the holiday season :-p

• United States
2 Dec 07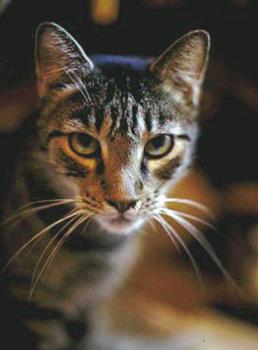 I have very laid back kitties who don't seem to be too impressed by holidays..LOL But I used to have one kitty, his name was Willie, but was called "Plume" cause of his thick, bushy "plume" tail. We called him the Christmas tree cat, cause he LOVED trees with a passion. Although even my two current kitties love sleeping under the tree once I have it. Plume would be so sad when I took the tree down. He'd watch me take it down, dragging it to the front door...I'm taking it out right. Now after putting in the garbage area, come back up open the door, and he still be sitting as if expecting tree to come back in. It was really sad to watch this and his reaction..He's a picture of him