Saganaki

United States
December 1, 2007 1:56pm CST
So I absolutely LOVE saganaki...however I for the life of me never knew what type of cheese was used to make it (I always had it in restaurants) but I'd like to try making it myself.... Any idea what cheese is used? I've heard that both Kasseri and Kefalograviera are the common types..anyone know if this is true?
5 responses

• Greece
1 Dec 07
I am Greek, so i know how saganaki is made. Its kefalograviera, or other hard cheese that doesnt melt. Reggato would also work. Kaseri isnt good selection because it will melt and lose its scheme. Its another way to cook cheese and have it show all of its taste. I love it! You can try it fried, but i would recommend grilling it.

• United States
1 Dec 07
"Its kefalograviera, or other hard cheese that doesnt melt." Thank you SO MUCH!! I'll definately have to order some kefalograviera..I never thought of grilling it..that may be something to try come the warmer months I think.. thanks again :-D

• Greece
3 Dec 07
You are welcome :) If you can grill it its better.Have a tomato slice on top of it so the cheese will gain tomato fluids and be softer. You need hard cheeses for saganaki, those that dont melt, i guess almost any would do. I have only tried with kefalograviera, hard kefalotiri and reggato.

• Australia
1 Dec 07
I've never heard of this dish but after checking it sounds a bit unhealthy to me...lol I did a check and I found Wikipedia the first link: http://en.wikipedia.org/wiki/Saganaki There was also a link with recipes: http://www.cooks.com/rec/view/0,171,159166-254206,00.html


• United States
1 Dec 07
OH its super unhealthy but its DELICIOUS! I love the stuff with tzaziki and pita wedges which is how I first had it...Its not something I'd make regularly but once in a while I'd definately make it since my husband, kids and I all love the stuff :-)

• Canada
2 Dec 07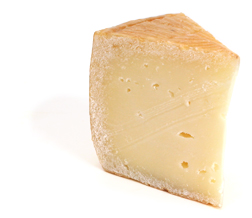 I work in a Greek Restaurant and sereve this cheese on a daily bases. I really love it. Of course we have pizza ovens to melt the chesse because the hotter the cheese the gigher the flame on it. It can be a little dangerous to light up when it is really hot. I myself have never had any real accident, but I have seen some of our newere staff members singe their eyebrows. I always hold it as far away as I can when lighting it .