Federer Vs. Nadal who is the best?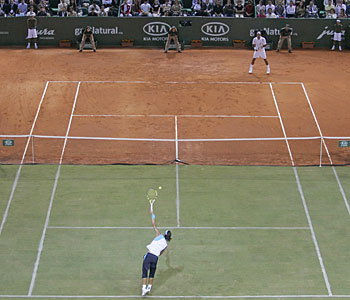 Canada
December 14, 2007 11:21pm CST
Who is really better at tennis? Do the rankings mean anything or is Federer just playing in the right tournaments? Is it the surface of the court that makes a difference? I have a picture of Federer vs. Nadal on a dual surface court. Nadal won the match but is this a fair judgement because you have to take into account that their strategies are based on both how the ball bounces for them and their oponents. Im curious to find out what others have to say. Maybe we can rate them based on enthusiasim, stroke, serve, volley, forehand, backhand. Each worth 10 points for a total of 50 points. I would give Nadal a 10, 9, 6, 5, 10, 7 and I would give federer 8, 8, 10, 10, 7, 7 I guess that would mean that I think federer is better. Post your ideas.
10 responses

• India
15 Dec 07
I generally agree with your ratings, but I think you have underrated Federer's forehand. I think it should be a 8 0r even 9. Also, if there is any rating for grace, then Federer gets 10!! For ruthlessness again he gets 10, because once he gets going he simply gets going!! Nadal though gets another 10 for determination. Cheers! Ram

• Canada
16 Dec 07
It seems that everyone acknowledges that Federer is better now. I think that you are right and on second consideration I would give federer an 8 for forehand. I would also like to mention that federer has his days. Sometimes if he plays bad, he plays very bad but then still catches up. But when he plays good he is invincible. Cheers!

• India
17 Dec 07
You are right, when Federer plays bad he wins by dropping a set or two, else he wins in straight sets :). But, at the end of the year Nalbandian showed that he was at least human!! Also, that great Sampras managed to beat Federer in the third match of theirs. Cheers! Ram

• India
6 Feb 10
records say fed is far ahead of rafa for now.

• Qatar
19 May 10
NADAL HAS 14-7 Record against federer & NADAL BEAT FEDERER IN ALL SURFACES. SURELY NADAL IS BETTER WHEN IT COMES NADAL Vs FEDERER. IF YOU LIST OUT GREATEST PLAYERS IN TENNIS BASED ON CAREER RECORDS, NO DOUBT FEDERER COMES ON TOP

• India
15 Dec 07
I dont think about this points....But i can say that federer is the best.... But coming to clay courts nadal is the king....no one can beat him on clay courts including federer......But federrer play at all type of courts...so,he id the best...

• Canada
15 Dec 07
Yes I guess I would agree with all of you. I think that federer is better than nadal


• India
31 Dec 07
The shining neacon of another year of excellence from record-breaking Roger Federer hlit up what has been a murky tennis landscape in 2007. The superb swiss completed the season with a fourth title victory from five edition of Master Cup, crushing Spain's breakout player David Ferrer in a straight-sets master class in Shanghai. The world number one, whose reign at the top of the table passeed the 200-week mark late last month, agian claimed three of the four Grand Slams, lifted eight trophies and complied oan untouchable 68-9 record. His goal for 2008 will be to finally get over the top and calim a french Open title for the first time in his career. He also stands just two titles aways from the all time best of 14 majors achieved by Pete Sampras, a goal that could also be obtained over the next 12 months. But one thing I have to say about Nadal is that his is "STILL KING ON CLAY"

• China
29 Dec 07
it seems roger,who is much better in volly,serve forhand,though raphal has more enthusiasimang he is the king at ROland Garros.i would give goger 9, 10,10,10,9,8and raphal 10,8,9,9,9,9 the competition betten them makes tennis more dazzling,compeitive,and prodigious.no matter who is the best,they are both the major rivals to each other.i hope they can keep confronting each other forever hoho:)

• Norway
27 Dec 07
I would say that Federer is better. I agree with you ranking list, (The one you made) but I think that Federer has a better Forehand than 7 maybe 8 or 9. If you have seen Federer´s mathes you have probably seen his great forehands! But isn´t Nadal injured? (I´m just wondering)

• Philippines
25 Dec 07
For me, Federer is better than Nadal. But actually, it depends, Nadal is really good in clay courts. While Federer is good in all courts most especially grass courts. Usually Nadal wins if the game is held on a clay court but there are times when Federer can beat him in a clay court. So I think Federer is the best cause he is not only good in grass courts but also in othe courts.

• Philippines
22 Dec 07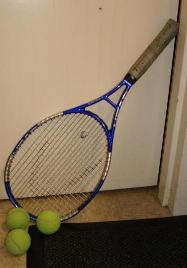 I do not yet understand the game but I do watch and fond of watching, in TV. I don't think I would ever understand the rules, just interested in sports and watching them.

• Pakistan
15 Dec 07
You are right Federer is better than Nadal, But my ratings for them is slightly different. Nadal vs Federer enthusiasm 10 9 Stroke 9 8 Serve 7 10 volley 8 9 Forehand 8 9 Backhand 6 9 Clearly Fedrer is better than everyone in this era. What i like about Fedrer, his aces and his cross court back hand, and his back hand slice shot, and what i s great about nadal, his approach to reach vey ball.