Wierd Day for Me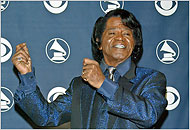 United States
December 27, 2007 10:17pm CST
I'm sure this happens to others sometimes, the kind of day where you are gloomy and introspected. It has been that kind of day(I'm thinking it's because of the post-holiday blahs and so many bad things being reported in the news. So, I just took some time out today to pay tribute to some of my favorite singers who have gone on in the last couple of years. I began with Luther Vandross. I still love his singing as much as I did the first time I heard him all those years ago. He died in 2005-seems longer. I listened to his music while I read some facts about his life-most of which I already knew. Leaving there, I visited the site of Gerald Levert, another of my favorite singers who died tragically at just 40 years old. I really just wanted to hear him sing. I was a big fan of his father, Eddie Levert who has been with the group, The Ojays for many years. My last stop was to visit James Brown who left us last December 26th. I can't remember when there wasn't a James Brown, and I have many of his songs. I considered it a tragedy that he was kept above ground for so long until all the particulars dealing with his estate got straightened out, but life is like that sometimes. In spite of all the dram in his personal relationships, he was one of the best.
3 responses

• United States
28 Dec 07
It sounds like you made the best of your "gloomy" day. It is hard when the news is so depressing and the natural tendancy to be a little "blue" after the holidays..but I tip my hat to you...some would just wallow ...but you actually found something that you were interested in and tried to make it a learning experience and a respectable day of enjoyment even though it had an element of sadness...I'd say it was a good use of time with a heartfelt point!!

• United States
29 Dec 07
Yes, rx4life, there is no better way to make us appreciate being alive than to recognize those that have gone before us, and to ponder over some of the good things.

• Philippines
28 Dec 07
well i hope you get out of that gloomy feeling real soon. it does always help to listen to the music you like to perk you up a bit. i'm bored stiff too here in the office. almost everybody is on vacation i don't know why i came here in the first place. think i should go home in a little while...

• United States
29 Dec 07
Well, chari_dc, I think that with the approaching New Years celebrations, everyone will cheer up-for awhile anyway. We just have to gloss over the negative as much as possible.

• United States
28 Dec 07
I'm with you. I was at work today and it seemed that the everyone had the blues,but ife goes on and that is the great part...life will go on.

• United States
29 Dec 07
You are absolutely right, kdhartford, life will go on! I woke up to a better day today thanks to tuning out some of the bad stuff over the past twenty-four hours.