*flash* paparazzi!!! c0uld y0u handle it?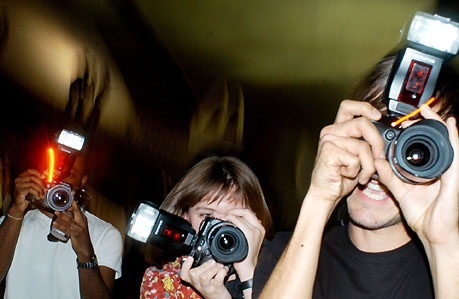 United States
January 2, 2008 11:08am CST
Would you ever want to live the life of a celebrity? Does It mean that much to give up your privacy to have that Celebrity status? Is it worth the money? Would you be able to deal with being followed around by paparazzi and having them being camped out your door every second?
2 responses

• United States
2 Jan 08
I really don't think I could handle that. It would drive me nuts and I'd really be wanting to beat somebody up if they kept bugging me like that. I don't want everyone knowing about what goes on in my life. Some stuff is private and I don't want to share so I know I could not handle the paparazzi being around me all the time.

• United States
16 Feb 10
Hey Check out http://www.ultimatewebscene.com/

• United States
3 Jan 08
I couldn't handle being followed everywhere. I think it should be against the law to invade someones privacy whether its a celebrity or not. Besides who wants some camera person following you to the bathroom that would be totally embarassing.