When do you get your rebate?

United States
January 3, 2008 11:03am CST
When you get special offers with the rebates, How long does it take to you to get your money? Does it come in check or cash?
2 responses

• Canada
20 Mar 09
I'm finding now that a lot of companies are choosing to send out prepaid visa debit cards for their rebates rather than dealing with the cheques, they do resemble a credit card so I would imagine that sometimes people throw it out by mistake thinking that it's a credit card promotion. The good thing about the prepaid cards is that they have a longer expiration than your typical cheque which usually expires after 90 days.

• United States
15 Feb 10
Hey Check out http://www.ultimatewebscene.com/

• United States
3 Jan 08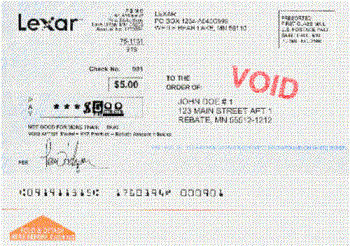 Rebates have always been a pain in the rear end... waiting and then never receiving (usually because something was never mailed in that needed to be[like the upc code or the like] and no one even telling you about it). There was a law that was passed in the US that forces companies to have a telephone number, and most now even have internet pages set up so you can track your rebate. One off the top of my head is for Sprint phones (www. sprintrebates .com). To specifically answer your question:How long: it says 4-6 weeks. If mailed in right away I have gotten in as little as three weeks. Check/Cash: comes in the form of a check that is made out to you. BE CAREFUL. Some of the envelopes that they are mailed in look like junk mail (credit card offers, etc...) so keep checking. Most importantly find the web site where you can track your specific rebate so you can know if there is a problem (and most sites tell you where in the process the rebate is). I know major stores like Circuit City, Best Buy, Wal-Mart, etc... all have tracking web sites. A picture of a rebate check is below. Notice at the top the postage... it is mailed LIKE THAT... so again be careful that you don't happen to throw it away.