school youth festivals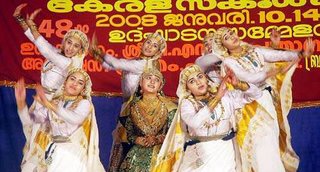 India
January 14, 2008 8:32am CST
These days, the state school youth festival is being conducted at Kerala, where children from all over the state get to participate in various competitions. The winners are graded according to their profeciency, and the overall championship is awarded to the particular district, which gets the maximum points. the victorious children too, apart from getting cash prizes from the govt, earns upto 30 marks in their board examinations, given by the education department as grace marks. That is a real incentive for the child, and results in unhealthy competetion. though such youth festivals were started to promote the art and culture of the state, these days, it has become a mere showcase for exhibiting power and wealth... The professional dance and music teachers in the state considers this a 'harvest period', as they charge exhorbitent amounts from the child. The parents are also ready to spend any amount to see that their child earns a bit of name and fame. The whole point is that after their period of education, most children automatically looses interest in all these activities. Very few bring up their talents to a professional level. I think, such youth festivals have started developing an unhealthy trend, promoting selfishness among the children. They are not able to withstand disappointment, according to an eminent psychiatrist, and react in unpredictable ways. I think it is high time the govt found out some alternate means to promote genuine interest for arts and culture, among school going children.
2 responses

• India
14 Jan 08

It's sad that the youth festivals have become a ground for fighting now. Earlier I would watch the youth festival...but now I am tired of all the politics involved. The mothers fighting...the gurus fighting. And the most disgraceful part is that these kids do not continue with the art (most of which are dying anyways) after they get the points or admission into the professional course. But this year, there were 8 students from all parts of kerala for a dance form (chakiyarkuthu I think) who learnt under the same guru and learnt it together. That I think was healthy competition.

• India
16 Jan 08
I couldn't agree with you more. It is indeed pathetic to see them all bicker over a few marks... Just, today, in the news, they were featuring a girl from a poor family, who had already taken a hefty amount as loan from a bank. Since the amount couldn't be repaid, the bank had mortgaged her house. Even then, she had taken other loans, and had come to participate in the Higher secondary youth festival going on now. She is participating in five items, and is requesting govt authorities for funds to meet the expenses. If she were so much interested in the fine arts, and has an aptitude for it, as has been proved, why can't she spend a lesser amount and go and learn under some genuine guru or a dance school instead of gambling on a prize??? She would get a chance to further her talent, and can look forward to a bright future too!

• Spain
15 Jan 08
what do you think that is the solution?, i think that the problem is not the championship the problem is how you learn this children to see this . The children need participate in this champioship and need see that sometimes win and other lose and that you family belive in their. If you not put Obstacles championschip the childre cant understand the lose. The sport is healthy and the competitions is healty