tree lined walk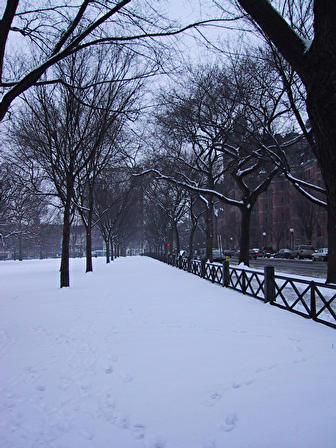 Singapore
January 15, 2008 3:29am CST
Isn't it amazing how perspective views cause one to think that a completely parallel path seems to narrow along the end?This photo illustrates that well, and is another exhibit of the beauty of nature. The snow is a soft cushioned layer carpeting the grass and gravel. A blanket upon everything, thickly on the floor, and gently on the trees. I love how the trees are so starkly bare but yet brimming with life within. They look dead but are only sleeping to burst forth with spring buds come springtime. Do you like taking photos of snow scenery? share some here if you have any!
4 responses


•
15 Jan 08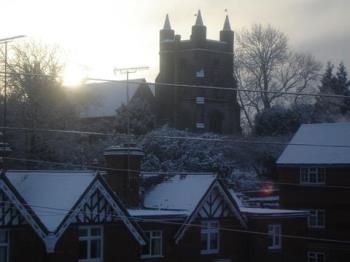 That's a beautiful picture, Squaretile. I love the way the dark trees are silhouetted against the snow and sky. Unfortunately, it rarely snows here, in the south of England, but last year, one February morning, I awoke to a light cover of snow, and the Sun rising behind the church. Here is my photo. Brightest Blessings and thank you for sharing.

• Singapore
16 Jan 08
thanks for sharing - I rated your photo. :) It looks like there's a layer of cake icing on those roofs!

• United Kingdom
18 Jan 08
That is am amazing looking photo with the white crisp snow and parallel path past the neat row of trees. The light superb and the trees look so empty without all the leaves. Yes, I also think of the spring when the trees will a new growth of leaves. I like taking photos in the snow, like when my dog Secret played in snow for the first time. Where I live now it is unlikely to snow so maybe he won't see snow again.

• United States
15 Jan 08
Yes, it is amazing and this is a very pretty picture. I love the little footprints too. What is the little red dot in the middle, a light? Your wording makes me wonder if you write also?....very nicely done and very descriptive. My daughter is an amateur photographer and has taken some beautiful pictures and sold a few. I love taking pictures but my camera is outdated right now and I really need a new one, just can't afford it as yet.

• Singapore
16 Jan 08
I'm not sure what the little red dot is.. hmmm. Well, I enjoy writing and reading but don't do it for a living, just as a hobby. thanks for your encouraging comments! hope you get a nice new camera soon.