Who is Responsible?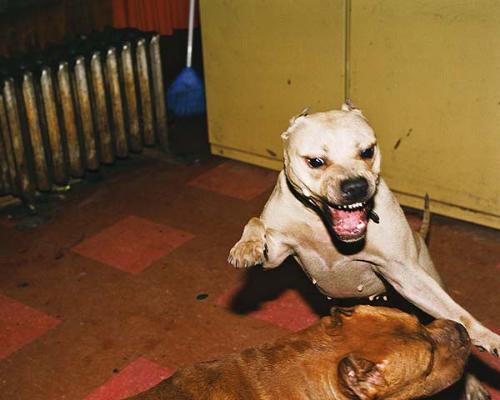 Turkey
February 4, 2008 5:06pm CST
I have been hearing about pitbulls on newspapers and TV. In one of them, a pitbull had killed a cat,and in another it killed a cocker of a neighbour. So here is the question? Who is responsible of such actions? Pitbulls? or their owners? Do you think pitbulls have "evil" inside or do their owners create an evil from a pitbull? Do you agree the ban about that breed?
10 responses

• Australia
5 Feb 08
It is always the owners responsbility to be sure their dog is well tempered, well adjusted & well behaved. NO MATTER the breed. I don't think it's right to ban a whole breed because of people who are too irresponsible to train their dogs as they should. All dogs were originally wild so they need to be taught, i have a small dog here that is super protective of me but he's a great dog & wouldn't hurt anyone - because i took to time to teach him how to behave. I think all pitbull owners should be required by law to take their new dog through obedience & behavioural training in order to keep them but that said - there will always be irresponsible owners who train their dogs to be attack dogs, so you'll always have a few dogs out there who will have the aggressive streak due to being trained that way - still NOT the dog's fault. You shouldn't base your opinion of these dogs just on the ones you read bad stories about - i'm sure there are other breeds out there who have bad names too due to the owners training them to be a certain way. Education is always the best option - if the owner & dog are both educated on how to behave then this breed would be like any other breed that people consider 'safe'!

• United States
5 Feb 08
I agree with the others who say that the owners are responsible and banning the breed is not right. I believe that penalties for owners who breed dogs to fight, or who have dogs that attack innocent people should be much tougher. but banning a breed because of irresponsible owners is wrong. I have a friend who had a pit bull and a rottweiler, both dogs with bad reputations. They were two of the sweetest animals you'd ever want to meet. It's all in how they're raised. If you raise an animal to be vicious, it will be vicious. The only difference with pit bulls and rotts is that they have unusually strong jaws and while other dogs might just bite, they grab on to something and don't let go--clamping down hard and doing more damage than most dogs can do because their jaws are not as strong. They will typically only do this if they've been trained to attack, however. This is why I say that we need to punish the people involved. Of course, once a dog has been trained to behave this way, it can't be untrained, and will generally have to be put to sleep, which is so sad.

• Indonesia
5 Feb 08
animal with their animal instinct can do that. but we as the ownner can create their actions. more responsible, care, love them could make them be a good dog. anyone must have lovely feeling about dog. they can be amazing by learning them good advice.how?

• United States
5 Feb 08
The owners are responsible, and bans based on breed are not right. Pits are amazingly intelligent & strong dogs. At least part of the problem is that the average person who is attracted to pitbulls is usually dumber than dirt. They choose the breed because it looks 'cool' or 'bad a$$' or insert stupid reason of your choice. Then they give it little or no training; or worse encourage the dog to develop anti-dog and/or human behavior. Then when the dog acts because of it's poor training, it's another headline making story.

• Lampe, Missouri
4 Feb 08
i use to have 2 bull dogs as a kid and they never hurt any of use. now don't get me wrong they where protective and all of us. i think for the most part it is the owner of the dog. i have seen all dogs get mean. people have done things to bull dogs to make them mean cuase they use to be fighting dogs and that gave bull dogs a bad reputation. and its not right.

• United States
5 Feb 08
Wow, you know, this is a story I completely relate to. Believe it or not I had to do the Michael Vick story for a magazine I write for. Talk about leaving my personal feelings behind for how I feel about the man. So no side jokes or comments of how could I do that. It is the person, how they treat the animal. An animal will reflect what their owners teach and do to them. Much like other animals. However it is very hard to rehabilitate the Pits because of their nature. When I lived on a farm any dog that got ahold of blood was destroyed. As hard as it was. Every dog is subject to what Pits are subject to. I will say though, I do have a friend who rehabilitates them. He is amazing with them and one that was a fighter for the ring is the biggest baby until you show him a cat or squirrel then well, it is not good. I also have healed many animals with love and care, abused horses, dogs, and cats to name a few. No in no way shape or form should the Pit be banned. Should a Dobbie or a German Shepard is my response, or a chow chow. There are many types of dogs that are fighting dogs who, if they are not treated well they will destroy and kill. Aingealicia

• United States
5 Feb 08
Owners are responsible, always! I had a friend once who had the most loving, wonderful pitbull who was a real sweetheart without a mean bone in her body. They got her as an abused puppy. Pitbulls can be very good dogs is they're raised properly and have the love that they need.

• United States
5 Feb 08
Agreed!!! They just need to be able to trust someone and you have a set friend for life! Who will love you unconditionally, just like any other dog. I work with allkinds of dogs, and once I worked with a very large pitbull mix. He was easily twice the size of a pure pit, maybe a little bigger. I sat on the floor with him, and he sat in my lap and gave me LOTS of kisses...he was NOT a proper lap dog X.X LOL. Nearly squished me! But he was very sweet!

• United States
6 Jun 08

Pits are no different than any other dog. It is the owner or owners of the dogs. A dog is as good as you train it. We had a pit that was a gentle fella loved everyone. But like any dog they are protective. As for out lawing the breed no I do not think this is a good idea or right. If they outlaw the breed does that mean the people that own them now would have to turn them over to be killed? Dogs become part of the family. any dog can be trained to go after cats. We have one dog my husband likes to open the front door when the neighborhood bully (cat) is in the yard and say get em and she shoots out like a bullet after that cat. Cat is faster and can climb a try my dog is chihuahua terrier so she is small. The cat is bigger than her. So I guess in a long way around I think the owneers are responsible of the way their dogs act.

• United States
5 Feb 08
It is the responsibility of the owner to maintain their animal. That is all of the obvious and also making sure that the dog does not cause trouble for others. Animals act instinctively in many ways. That is why certain breeds like pit bulls have such a problem. Any animal can be vicious under the right(wrong) conditions. It is up to owners to see that does not happen.

• United States
5 Feb 08
I don't agree with the pitbull ban at all. I think it is ridiculous. I do not think they have any evil inside them; bad dogs are not BORN they are MADE...Any breed can be made mean, it isn't just pitbulls. The only reason pitbulls attacks get so much news coverage is because pitbulls are the dogs targeted as a "bully" breed. Truth is, there are dog attacks all over the place done by tons of breeds; collies, akitas, etc. A person should be able to control their dog.