Japanese continue to Slaughter Whales!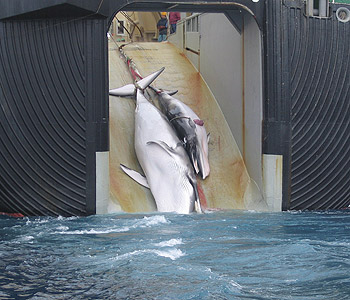 Australia
February 6, 2008 9:18pm CST
Apparently the injuries were horrific. This was seen by Australian customs officers in their ship Oceanic Viking. They were sent to spy on the Japanese whaling. Two other protestors ships, Greenpeace & the Sea Shephard, had to return to Hobart as they are low on fuel. You can be certain they will return. Japan wants to kill almost 1000 minkes and endangered fin whales under the pretext of scientific research. If anyone wants to read the full story, here is the link:http://www.news.com.au/adelaidenow/story/0,22606,23172726-5006301,00.html
9 responses

• United States
7 Feb 08
I hope and pray they get stopped from doing this. What are they doing with it once killed. Why are humans so cruel to the creatures of the earth? Oh how terrible and I was just going to eat.

• Australia
7 Feb 08
When the kill the whales they take them back to Japan to eat.

• United States
8 Feb 08
I'm 1/2 japanese, and I've always loved sea animals, especially dolphins and whales. but I've never heard of any whale hunting in Japan, or Japan using whales all my life from my Japanese friends and family. I'm shocked and confused by this. :/

• Australia
9 Feb 08
It is actually not happening in Japan as far as I know but on our Australian coast which is quite appalling and very annoying to many Australians.

• Australia
10 Feb 08
Caramello is corect. The Japanese whale hunting does not occur near Japan, it is close to Australian waters. Maybe a lot of the Japanese poulation dont know this is happening.

• India
7 Feb 08
I have seldom done this but being a spiritual person and believing in divine justice, I just PRAY & HOPE with all the fervour of my beliefs that those people who have and are harpooning the whales and their babies, go through the same (I cant find the exact words) …at some stage of their lives. I don't care whether the govt is sanctioning these and for whatsoever reasons, I still believe it's a personal choice. There are a thousand other professions to choose from, you don't need to go out into the ocean and show your 'bravado' and earn your bread by hunting down these magnificent creatures alongwith their babies. I went to the link and the very words 'tired & disoriented' made me imagine the bewilderment of the mother whale (being a mother myself). Should she protect herself or her baby? Where can she run? How can she hide? Whales are very intelligent and I was just trying to think of me in a mother whale's position…have become very emotional, feel like hugging my baby and crying. Oh I wish these bastar*ds burn in hell's fire.

• Australia
8 Feb 08
What a wonderful response. Yes, people find it difficult to believe that whales feel distress & have emotions. Also, they are endangered. It's not as if the Japanese are starving & need the food

• India
8 Feb 08
Exactly, and its not that they are a poor nation so they cant research and increase the food production. And to see the Japanese children, so cute, so lovely just like dolls and to imagine that they are growing up on a continuous endorsement of hunting and being cruel to animals just for gastronomic pleasures.

• United States
7 Feb 08
I don't want to read the whole story because it would make me sick. No wonder that actress from NBC's show Heroes went over there to protest. Her name is Hayden, you may have read about that. She protested the slaughter of the whales, and she actually had an arrest warrant issued in her name after she left the country. Of course, after the publicity, the Japanese police dropped the charges. I can see why she felt it was so important to go over and protest.

• Australia
7 Feb 08
So it was the Japanese who issued the arrest warrant, not the US? How can they do this, when she is not even a citizen of their country? The whaling ship "kidnapped" two protestors for a few days, & it took a lot of fuss from our government to get them released.

• United States
7 Feb 08
What she did in Japan wouldn't have been illegal here in the states. Everyone over here thought it was silly that the warrant was issued. I imagine there was a big furor over your people being detained. How scary to be arrested for something so non violent (their protest) and worthwhile to protest.

• Australia
8 Feb 08
The reasoning behind the killing of whales by the Japanese to me is a load of rubbish. Thank goodness the 2 protestors that actually ended up on one of their ships were unharmed, but I have to give them much credit for what they did. I myself have to switch off when I know this is about to be shown on the news but you end up getting bits of it and it is quite disgusting. We really need to take a stand and not be intimidated by the Japanese.

• Australia
10 Feb 08
I have told my daughter, now 14, that when she is an adult she can join one of the protest ships, if this senseless slaughter of the whales is still continuing.

• Canada
8 Feb 08
I think that it is sick to slaughter innocent whales and that it should be illegal to do so and if you get caught you should do some jail time.

• Australia
10 Feb 08
Unfortunately Australia does not have an international law that would allow them to jail the Japanese caught whale hunting.

• United States
7 Feb 08
This has been going on way too long. Greenpeace? well,they used to help but it seems the people in Japan demand their whale meat..blubber and fat is yummy to them. Since the world governments are having issues with China and Japan over lead in the stuff they sell and Japan killing the whales the simple thing would be to just shut them down economically...this would not take to long as both giant trade countries depend on the rest of the western world for keeping its economy going. In the end its all about greed for oil..and the total extinction of the whale species..mankind will be the next species to evaporiate

• Australia
8 Feb 08
Our previous Government was reluctant to interfere with the japanese for the economical reasons you mentioned. Our new Government is far more likely to take action.

• Philippines
7 Feb 08
Those poor creatures... the Japanese are so stubborn when it comes to issues like this... they think they are above everything and they deserve to hunt and kill dolphins and whales for their eating pleasure... i hope that the international community can put pressure to their government to stop this type of slaughter... I feel for the whales and dolphins because they are such intelligent creatures... just like us humans... and they do not deserve to be hunted down and turned into a delicacy...

• Australia
7 Feb 08
Particularly if they are an endangered species.

• United States
7 Feb 08
Ugh! I started a discussion about this 2-3 weeks ago when I found an updated story that Japan was still whaling. This frustrates me so much!!!! I really do not understand how any culture can hurt these majestic animals. I wish there was more I could do.

• Australia
7 Feb 08
After all the protesting Australia has done,sending out two protestor ships & one customs to spy, they are still continuing this senseless slaughter.