Update on my bottle babies!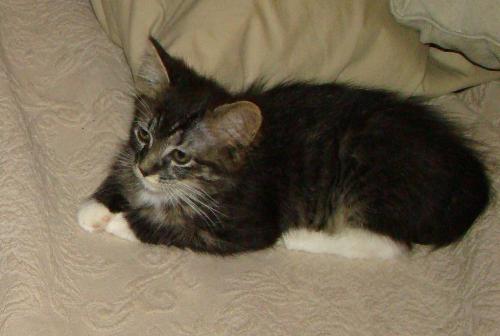 United States
February 11, 2008 4:03pm CST
I went by the adoption day yesterday and got an update on 2 of the bottle babies. Skippy has been in his new home for about a month and is much loved by the kids who love to carry him around. They say he's like a Ragdoll (breed of cat) and just goes limp when he's held. His name is now Sam. Sox, the little girl, is doing great with her new home as well, her name is now Mia.
6 responses


• United States
12 Feb 08
That is great. I think all pets need a good home, well most of them. Some are very mean from day one. I treat my dog like a child. He is so spoiled. I think if you own a pet, you should love them like that and take care of them like you do yourself.


• United States
12 Feb 08
That is great!!! good homes for the cats...Oh him going limp sounds so cute..My daughter loved cats so much when she was little,she always had her cat..She played with her cat and dressed that cat and the cat just loved it..To this day my daughter still loves cats,she has two daughters and they are cat lovers too.I get so amazed at my daughter she just picks her cat up and gives it a big kiss right at his mouth,and the cat loves it...

• United States
12 Feb 08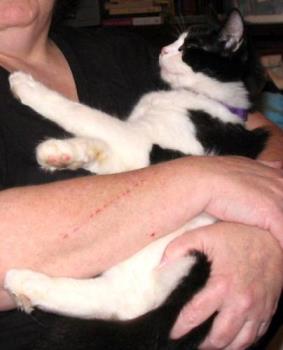 On the mouth... I don't do that... But, cats will do whatever if they learn early enough. Oliver will climb in our arms and then struggle until he's laying upside down because we used to pick him up and tuck him in our arms like a human baby. We didn't FEED him that way, its not the kitten way, but we'd hold him and love on him that way.

• Indonesia
17 Feb 08
Aww they are cote. which one that scratch your hand?

• United States
28 Feb 08
Aww--Mia is adorable. That's great that you get updates on how your kitties that you've adopted out are doing..do you do this with all your adopted out cats?

• United States
28 Feb 08
The kittens/cats I've adopted thru Cats Angels are checked up on a few times before becalled finished. "D", the lady in charge, likes to make sure everyone is happy. I've also been able to keep in touch with 2 of Rygel's sibs because I know where the owners work (one at the petco.) I've also been able to stay in touch with Gizmo's sibs and mom, since friend's all adopted them.

• United States
26 Feb 08
So very happy to hear they both went to loving homes, Elic. After bottle-feeding Lightning from day one, I would love to find another day-old kitten to bottle-feed again. The joy I received from taking care of my lil man when he was a baby was very much worth the huge pain in my wallet later in life. I honestly don't think he knew he was a cat. Growing up around dogs till he was a year old with no cat companionship...lol

• Australia
15 Feb 08
That is great! I hope they keep doing well.

• United States
12 Feb 08
TY for the update always love to here a story where things really do work out for the better