Gourmet Dining Brand Review: Shrimp Fried Rice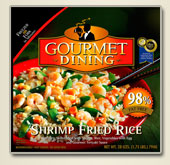 United States
February 19, 2008 9:42pm CST
Have you tried this delicious meal yet? From stovetop to plate only took 10 miuntes. This shrimp fried rice meal was quick and easy to make. If you would like to read more of my review go here: http://www.associatedcontent.com/article/598655/gourmet_dining_brand_review_shrimp.html Have you ever written a review of a new food product you have tried? What was it and how did you come to write it?
1 response

• Canada
20 Feb 08
yummy it does sound good and the big bonus is how fast we can start eating :) I usually prefer to cook from scratch but there are always days where something like this will come handy. It seems to me that this meal is a step above most frozen meals having things packed separately and all. I never tried it but after reading your review I would certainly try it. As for your question regarding writing a review for a food product, I never did so I can't tell you how it was or how I came to write it :)

• United States
24 Feb 08
Hello arkaf, Thanks for the response. I have been trying some of the frozen packaged meals lately and they really are very good. I especially like the ones that come with the meat and all and that it is all packaged separately with complete assembly instructions. I too like to cook from scratch sometimes but usually end up preparing way more than we need when I do that.