U.S Missle hits Satellite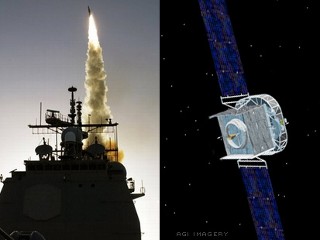 Atlantic City, New Jersey
February 20, 2008 10:19pm CST
The outcome is yet to be determined....I don't know about you mylotters- but this type of thing just doesn't sit well with me. They say its never been done before....and I personally hope it does not have to be done again...what if wreckage falls down upon earth- there would be no telling where it would fall.....what are you thoughts on what the outcome may be?? Do you agree with how this situation was handled?
1 response

• United States
21 Feb 08
It dosen't sit well with me either, because the satellite is/was supposed to hit Alaska, and I happen to live in Alaska. Obviously I don't want where I live to be blown up or poisoned or whatever it is, you know? One of my friends was talking to me about it today and told me that it was successfully intercepted and that most of it will burn up and be destroyed before it ever reaches Earth. I sure hope that's true because I would hate to be wherever that crap is going to land. I'm not even sure why it started falling back into the atmosphere. Maybe they should do some research into that. It seems like the space field is getting more and more clumsy with more and more accidents.

• Atlantic City, New Jersey
21 Feb 08
An update on Good Morning America this morning says that there were no pieces larger than a football left- BUT- these piece will continue to travel around the earth for 40 days with no one being certain if it will ALL burn up before hitting Earth's surface- not to mention- they have no clue where it might even hit- if it does......this scares me!