FREE book by Ruth Graham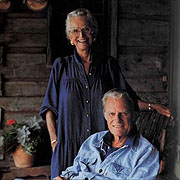 United States
February 28, 2008 11:21am CST
I don't normally post 2 discussions in one day but not sure if this offer is up today or next month but thought there may be some interested - I have received different books from this site BGEA (Billy Graham Evangelistic Association) and they are totally free, no shipping or anything just submit your name, address, and email address they will send you a confirmation email just click on the link and your book will be on it's way. This month the free book is "Letters From Ruth's Attic"by Ruth Bell Graham. If your not familure with Ruth Graham or her family she was (passed away in June of 2007) the wife of one of the most famous Christian evangilists in the world Billy Graham. Mrs. Graham was a remarkable women and a great inspiration to myself and many others I'm sure. One of my favorite quotes happens to be from her - "Just pray for a tough hide and a tender heart." I've read several of her books over the years among them "Prayers From A Mother's Heart." To get your free book just go here and fill in your information, you won't be disappointed https://www.billygraham.org/freeoffer.asp?f=0&foi=tv p.s. to avoid any confusion, this is NOT a referral link I gain nothing at all by sharing this link but pray that others will benifit from this free book.
7 responses

• United States
28 Feb 08
That is wonderful, I didn't know they had that and if it wasn't for knowing you started this, I may never have found it, thanks faith..;)

• United States
28 Feb 08
Your welcome and if you signed up for the newsletter they usually have a different free offer each month. Actually I went there this morning because Billy Graham is having another crusade and I went to check what the airing times would be in my area - opps forgot to do that so will want to go back and do that.

• United States
28 Feb 08
hahaha, I have done that, went to a site to do something and did something else, completely forgetting why I went there in the first place..:)

• United States
28 Feb 08
And you know what? I opened the page again then went to do something else and totally forgot why I had opened it and closed it again - multi-tasking big time today, or maybe it's just the 'old lady things' again, mind doesn't hold things real long :)



• United States
28 Feb 08
I had been registered with them online for several years but last year when I moved I closed my old email address and had forgotten about several great newsletters I was getting. It just happened this morning I got a letter from another site that mentioned the free book. You are very welcome and although there have been a few times the free book they offered I already had I would still get it to give to someone else.

• United States
28 Feb 08
Thanks! I just went and ordered it. I'm anxious to get it! So they give away a free book every month? I'll have to remember to go back. Thanks a bunch!

• United States
28 Feb 08
It's not always a book - I remember one time it was a set of scripture cards, I still have most of that - I gave a few away when I felt they were needed by someone else more than me but there's a little plastic box the cards set in and their color coded by 'topic' very helpful when searching for something but not sure where to look in the bible. I signed up again for the newsletter and they always tell in that what the 'free gift' is each month.

• United States
28 Feb 08
Oh you are very welcome and I'm sure we'll really enjoy the book when it gets to us - seems like it usually takes a few weeks but always a nice surprise in the mail.

• United States
29 Feb 08
Thanks for sharing this information, I just signed up to get the free book. I have gotten their books before, but it has been awhile since I have. They are always a good read. Very inspirational family! They share the Love of the Lord with humble hearts!

• United States
1 Mar 08
Oh wonderful - I too have gotten the free books before as well as read some that I've purchased written by Ruth Graham. A remarkable family but I just can't imagine what it's going to be like when Billy is gone - the last few crusades I've watched on TV you can tell he has less and less energy and someday won't be able to do them any longer. The others are great but he is the head of the family and the leader.

• United States
29 Feb 08
Thank you Faith,I did go to the site and order the book..I do like Billy Graham and his wife..Thank you so much for this information....

• United States
29 Feb 08
Oh great, I wasn't sure how many others would be interested in this offer but I couldn't pass up the opportunity to share. Even before I turned my life over to God I remember the Billy Graham crusades being on TV. I didn't always watch but I always remembered how many people there would be and how involved they were - I even remember thinking they must have something special to have so many people going to see them.

• Singapore
29 Feb 08
thanks for the link but I just went there and realised that it only applies to US and canada addresses. it's great to be in these two countries - there are so many things that are mailed free within! and there are so many wonderful scrap booking online shops in these two jurisdictions that offer cheap or free shipping. by the time it gets shipped to me the costs multiply many times. there are many christian resources that are for free. see if you enjoy the don carson and tim keller downloadable messages at this site. www.bethinking.org. It has blessed me and my family.

• United States
29 Feb 08
Yea another myLot friend told me this after I had posted. It is a shame that more things aren't available for more countries. I haven't heard of Don Carson or Tim Keller that I recall but will certainly check out this site, thank you, I'm always looking for good reading material.

• India
28 Feb 08
But the book is available only for US and Canadian citizens. Others cannot order it. Heard of Billy and Ruth... who would not have heard of them!

• United States
28 Feb 08
Oh I am so sorry I was so excited I never thought to check where it was available, I'll try to remember that next time. It would be great if someone in one of those countries could send it to you if you would like. Believe it or not there are some who have not heard of the Grahams but both remarkable people in my book.