I need help fast. Help me & I'll help you.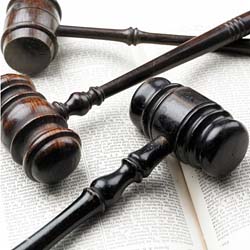 United States
March 1, 2008 12:05pm CST
Ok, long story short, I've dked around and am doing a research paper that's due in 2 days. I've spent the last 4 hours trying to search Court Cases for the following people: Luther Smith John Thoene Leland Schoen Walter Buck Douglas Goldman I can find the laws that pertain to the incidents in these cases, but cannot find the actual cases. Luther tried to claim reimbursement for a library book he lost on his income taxes as a casualty loss. A big no-no, because casualty loss refers to loss of property due to flood, hurricane, fire, vandalism, etc. John tried to claim dancing lessons as a medical expense because it was doctor recommended. Had the doctor actually written out a prescription for this unorthodox treatment, John could have made this claim legally. Leland is trying to deduct vet bills by claiming his dog as a dependent. I'm not even going to go there on what's wrong with that one. Either way, I cannot find a case for any of these people through any resource I have tried. Find me a resource I can use (only 2 of these cases are required for my report) on any of these people and I will help you either by answering 10 of your discussions here or joining a site under you and actually working the site (no monthly subscription fee sites please)...or by helping you with an assignment in the future. Your choice. Help me please!!!
4 responses

• United States
2 Mar 08
Hiya sweetheart! Miss you, busy lady! Try the following site. I think it has what you're looking for. http://www3.interscience.wiley.com/user/register/form After you reg., go here: http://www3.interscience.wiley.com/cgi-bin/abstract/114072080/ABSTRACT There is a section on site that lets you search by category that includes the subtitle "law". Good luck, diva!

• United States
2 Mar 08
What's happenin' hot stuff? I finished that paper a few hours ago after some useful tips from a fellow classmate via the campus online discussion forum, but I thank you for the resources and am bookmarking them to my "for school" folder for future reference. So, you win the prize. What is your wish?

• United States
2 Mar 08
That kind of thing right there is what makes you so totally kick azz!


• United States
1 Mar 08
Shannon, I seriously doubt you'll find that kind of information on the internet. You would need to search COUNTY RECORDS where the cases were filed.I'd love to help you dig but would need a better understanding of what you really need for your research project.

• United States
1 Mar 08
County records aren't the assignment. This is literally what I was given (verbatim): Requirements: Select two of the court cases below and research the question asked. Prepare a report for each problem providing the information requested in A-F. All papers must list each problem along with the answers labeled by the letters A,B,C,D,E, and F. A grade of zero will be given to papers not in the proper format. A. Problem number and information B. Key words that you selected C. Key words that you used in finding your answer D. The Court Case E. Tax Consequences: Tax Due or Tax Refund F. Your answer to the question 1. Luther Smith left a library book on a bus with was later returned to the library in damaged condition. He reimbursed the library for the damage and wished to claim the loss as a casualty loss. Can he? The other four questions are exactly the same in the respect that there is no petitioner (I mean what else do you try besides State v., United States v. and IRS v. each defendant?), no state, city or county, no date of case, no docket number, no nothing but the above. I'm think I'm about to get a big fat F for having stuff missing. I cannot answer D or E without the damn cases. OY!

• India
1 Mar 08
sry friend i dont have any idea regarding ur project ...