How do you feel about your Mother In Law ?

United States
March 3, 2008 5:52pm CST
Mine has always bothered me. She smokes too much, goes into WAY too much personal detail about her health problems. (She'll discuss Bowel movements over Pie), And just the other day she says "I hate to be too personal, but are you pregnant?" I scratched my head, urr, "NO, I'm just FAT" She's so rude. As if it's any of her biz if I'm pregnant, urr... I had my tubes tied after baby # 3 TYVM! Silly M-I-L
7 responses

• United States
4 Mar 08
Hi Carmeta! I have a Chinese MIL, she's a PITA. She went so far as to try to stop our wedding by telling my husband that one of her friends had seen me at the shopping center with another man. She's done alot of other nasty things (and said other nasty things) as well. I think I've finally gotten through to her though. A few months ago she asked my why I was so nice to my new Daugher-in-Law. I told her that some day I would be old and need to live with my kids. I mentioned that it would probably be my daughter in law rather than my son that would be feeding me and changing my diapers, and that when that happens I would much rather be someone that the daughter in law loves - rather than someone that she dislikes. That really got her attention!

• United States
4 Mar 08
She's a trip alright! I always like this time of year when she's traveling..... I've told my daughters-in-law to tell me if I ever get too pushy or too nosy. I want to know if I'm becoming a PITA. They assured me that they would be happy to let me know. Right now I find that they call me for advice quite often. I think that keeping the lines of communication open are important. Perhaps Carmeta - you should talk to your mother in law about it. Maybe she doesn't realize what she's been doing.... Good luck!

• United States
4 Mar 08
Sorry shes so rude. I am not married, but my boyfriends mother is a piece of work. She, like your mother in law, is very nosy, and can be rude. She thinks she is almighty, and is always right. She is a nice person at times, but most of the time she should just keep her opinion to her self.

• United States
4 Mar 08
Do you think if your bf popped the question, that you'd take her into account? Or do would you just decide to move far away where she can't interfere? I soo wanted to move like 1500 mi away just to be out of range of her. I see her call and I ignore the phone. I'm bad. lol

• China
4 Mar 08
As a student,i don't have mother in law.(((LOL)))

• United States
4 Mar 08
mother in laws sometimes are concerned and ask personal guestions when they should not.if i do not want to answer my mother in law,i just change change the subject.talk about her favorite memories or foods.sometimes they do not know what to talk about.she seems open and comfortable talking to you.she sssounds a little depressed to me.we all have bad habits and she will not stop unless she chooses to.just point out that you are sad she is sick,tell her she is in your prayers.she thinks you care and sometimes wwomen can be open with other women more than men. susu22

• United States
4 Mar 08
Mine talks about her women's issues with me AND her son (and grandkids) present. She sounds like a crazy old lady. She even talks about how she needs new bras and panties for Christmas and tells her son/my hubby what sizes to get. She bought him underwear too when he was 35 yr old. I LAUGHED. Sad thing was he thought it was great. haha.


• United States
4 Mar 08
20 years! That's nearly unheard of nowadays! I celebrate my 10th Anniversary this July. Everyone is in disbelief. I have to work really hard to tolerate my MIL. We don't visit her much. Hubby and I would have divorced long ago if she was here daily!

• United States
4 Mar 08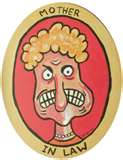 There aren't enough words to describe my mother in law. She hates me and I can't stand her.... period!! lol Thank God in the 16 years hubby and I've been married, we lived far away from her. We're about an hour and a half from her now and aren't going to get any closer... lol She's a mean mean mean woman.

• Malaysia
11 Apr 08
I have had not much problem with my MIL cos she's workin gin another state and seldom comes back to where my husband and I are staying. even if she does comes back she will stay in her sis's house. She will just come over for visit. When we 1st moved into our new apartment she had some things to say but that was because we haven't finish unpacking stuff. I tolerated the music from her by telling myself that nah she's only here for a visit and after a while she's gone. So I just keep quiet and let the music ring. That was like 2 years ago. Nowadays when she comes to our apartment she does not say anything anymore. Nothing for her to say cos the floor is squeaky clean, bathroom has no slime, everything is in place...me a clean freak. But I am prepare...even if incase the music does ring, then I will pretend they are buzzing sound from the mosquite!!! LOL