The Canadian Geese Signify Spring Is Here


March 3, 2008 6:16pm CST
Every year, a flock of Canadian Geese come to breed on an island in our middle mill pond. I love to walk out there and see them. When the goslings are big enough, they bring them the the edge of the pond, and commandeer the pathway. lol. There's lots of hissing and flapping goes on if you get too close to their little offspring. Two mornings ago, I was awoken by their honking as they flew over my rooftop, on their way to the pond. Yes, I'm on their flight path and the dawn flight will be a regular occurrence for a while now.:) I welcome them though, for their arrival means that Spring is here, and everything is being born and starting to flourish. They come here in Spring and leave again in the Autumn, when their young are grown. I guess it's the young who keep coming back too... that's why the numbers are growing. I must make some time soon, to wander over to the millponds, and take you all with me. It will be interesting to see whether the Swan has found a new mate for herself too. They used to occupy a reedy island in the first millpond, but unfortunately, the Cob got tangled up in some wire fencing and died, so the distressed Pen only returned once, to wreck her nest and cry her tears. It was such a sad sight to see this lonely bird, calling to her I was told that they only ever take one mate, so I doubt we'll see her again. I really feel for her, and so wish she'd come back.
9 responses

•
4 Mar 08
Darkwing sweetheart I had heard that swans mate for life and never , or very rarely take new partners! It is so sad that this happened to the cob and so easy to prevent! Poor lady to have so much grief! i have to say I would steer well clear of the geese and Goslings, my Grandad taught me a very valuable lesson when I was younger by letting me approach a mama Goose and her baby , much more effective than telling me it would attack - they certainly are protective of their babies aren't they? i look forward to the trip to the millpond as usual! xxx


•
4 Mar 08
I can imagine you being careful with the duck and goose with babies sweetheart! My great Uncle lived on the foreshore and was a fisherman, there were a couple of tractors parked at either end of the beach for moving the boats in and out of the water. My uncle had 'pet' goose and a 'pet' duck that were the best of friends and used to spend a certain length of time with the mummy tractor and both leave to spend time with the daddy tractor at the same time - it was so funny, I really would love to have let you see their antics you would have laughed so much! xxx


•
4 Mar 08
You're quite welcome my dear friend. It's lovely to have you back too... I've missed you. Thanks for all the messages in that other place too... I did see them, but I can't bring myself to spend any amount of time in that site. I'm afraid that Mylot has me hooked... I met so many special people here, and made a lot of friends, so I guess this is where I'll be staying. :) I'm glad you enjoy my writing... if I can give just that little bit of pleasure to the people I care for, then I'm happy. Thank you my friend... Brightest Blessings. xxx

• United States
4 Mar 08
I find it so amazing how you bring up subjects that trigger my memories. My favorite apartment that I lived in a few years back had a pond and every year I'd wait for the Geese to have their babies. I use to love watching them, especially strolling down the sidewalk all in a row, out for their daily exercise, and their first time in the water. What fun it was to see them learn. I miss that place and wish I can afford it again. I was very happy there.....maybe if I wish hard enough it will happen.

•
4 Mar 08
I love to watch the geese too. In fact, I like all sorts of birds. There were a lot around a pond in Glastonbury Abbey's grounds, but I didn't go too close... just left them to their territory and watched. lol. Yes, keep on wishing, and apply your PMA, and even if you don't get back to the place you can't afford, you might well find another, similar place, where you will be equally happy. Do you have a spirit stone, which you could work with? It could help. Brightest Blessings. xx

• United States
4 Mar 08
Yes, we do have lots in common with the birds, don't we?, lol! Ok, what's PMA?...I'll try whatever. I don't have a spirit stone per say, but I do have a stone with a skunk carved into it (another one of my Totems)...I have to say, I love the little critters completely. I also have some stuffed animal one's too, haha. The stone caught my eye many years ago so I bought it. Shall we say, they like me too. The Skunk stone sits out among the Owl carvings that I have displayed on my shelves. I use to take one particular stuffed animal Skunk camping with me for protection, can you believe that?...I still believe it works, how silly I am. You take care Hon, I'm off to work, ugh.

•
4 Mar 08
We sure do, my friend! PMA stands for positive mental attitude. My thoughts are, and correct me if I'm wrong, that you're in a period of transition. That is, you're at a point where you're not quite decided yet, which way you want to go. So, you're tolerating your dingy basement because even though you don't want to be there, you know there are some answers to be found from being in that situation. (It's a kind of visionary lesson?) I also feel that you're beginning to see the light shining on your pathway out of that basement, and soon, you will discard the negatives and adopt the positives, to step out in all your glory, and back onto your designated path again. I feel you're searching for answers and you're finding them, bit by bit. Soon it will be Ostara, or Spring Equinox, the name Ostara, adopted from the Goddess Ostara, whose name suggests "east", and therefore, "dawn" and "morning light." This denotes new beginnings, so I think you are about to find yours. In the Christian World, the word "Easter" replaced Ostara, and this celebrates the resurrection of Christ, thus new beginnings, again. So, the signs are all there, my friend. Wow... what better spirit stone for you. The skunk is a very powerful totem animal, which is fearless but very peaceful; two great qualities which you can learn from your skunk totem. It is a silent animal and through its silence, teaches us not to brag... it will push people away rather than attract, but people will notice you without any help. When the skunk appears, opportunities will open to bring self-esteem and respect, bringing increased sexuality; physically, psychically and spiritually. It has mystical and magickal associations, and also, teaches how to give respect, and expect and demand that same respect. It will help you recognize your own qualities and assert them, so a wise choice, my friend, and thus, your stuffed skunk demanded respect from the other animals whilst you were camping, in protection of you. :) I daresay you knew all that already, but you never cease to amaze me, my friend. I've learned so much about you in the few weeks I've known you, and our similarities, toboot. :) Think on that, anyway... your spirit stone can help you, as can many of the other things in your possession. Have a good day at work, and Brightest Blessings. xx


• United States
4 Mar 08
I always love to watch the southern flight of birds geese or others. I remember camping once with my dad and mom and my family in Dinasour National Park its outside Vernal Utah, Dad and I were the only ones up and the sun was just coming over the mountains when we heard the honking and over hear was a whole flock flighing over in a v shape but a couple of plaes in the v shape was empty. I have always wondered if that space meant a fallen member.


•
4 Mar 08
Yes, that does seem a bit odd, but it may be that some were not flying as fast or hadn't fallen back into the correct position, because one tends to fly at the head of the V for a while and then it peels back, and lets another take the front position. It's rather like a Red Arrows air display. lol. They indeed, come over at dawn as well as dusk. I don't know where they go, or why, but that always seems to be the case. As for the swan, you may well be right, but I hope you're not. It's possible she broke her nest in breaking all ties with the cob, in her grief. I don't know, but I really hope she's still alive, and will always go out to check if she's back. There again, it may be a younger generation comes back... who knows? Brightest Blessings. xxx


• Philippines
4 Mar 08
What a lovely season and view it must be, sadly, we only have two seasons here. Summer and rainy season that is, summer is coming near here and we're also planning to have another group excursion somewhere beyond the wilderness!;) There's also a place here that is a haven for migratory birds, I believe some of those you have there also makes a stop on one of our swamps here. A new season, a new beginning and a new experience to enjoy. I hope that you do have a lovely spring there in your place, take care and thanks for sharing this wonderful story to all of us!;)

•
4 Mar 08
Awwwwww, I can't imagine what it might be like without the four seasons because I love each one of them. Each of them indicates a part of life to me, but from Nature's respect. Still, you learn to enjoy life in your own way I suppose, with your excursions and your trips to the wetlands and swamps to see the birds. We all have Nature in our lives, I guess. Thank you, I certainly will enjoy the spring season, and I hope you have a happy time on your excursion too. Brightest Blessings. xx


•
4 Mar 08
Yes, swans are the same, my friend, but they don't often flaunt their young ones on your path. They tend to keep them isolated from humans, say, in the middle of a pond. I think, in the light of some reasonably recent happenings, I should encourage a couple of geese to my garden. lol. What a great thought! :) Brightest Blessings, my dear friend. x

• Canada
4 Mar 08
Spring is in the air but here in my part of Canada we still have to wait for a while. I live next to a big park with a creek and Lake Ontario. We have a flock of Canada geese that do not migrate anymore because people fed them too often. So they stay all winter. In the spring I love to see the goslings as well. They are so cute and fluffy but some of the geese have as many as 12, some only 2 or 3. We also have swans that come from the lake and go up the creek for a period of time in the spring. Yesterday I was at the park and saw a pair of mute swans (orange bills and feet with a nob on the beak) and one tundra swan (straight black beak, black feet) They were sitting on ice flows in the creek and looked a bit disappointed, I guess it was too early. Like you, I experienced the sadness of watching a grieving swan. Last year one pair decided to stay in the creek and build a nest. Usually masses of swans, (I have counted as many as thirty in one day) come up the creek from the lake but only to feed on certain vegetation and then they leave again. This pair started to build a nest in the tangle of a fallen tree which lay in the creek. One morning I found what was left of the female. A coyote had killed it and eaten all the innards already. The male swan kept cruising the creek for days in search of his mate. He kept swimming round and round. It was so sad. I have read somewhere that eventually lone swans will mate again. I surely hope so. Thanks for your nice post.

•
4 Mar 08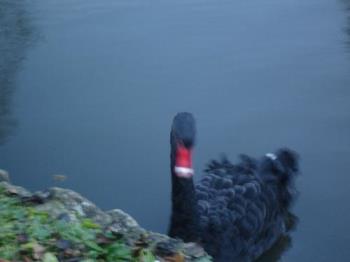 Thank you too, my friend, for such a lovely response. It sounds beautiful around the creek and Lake Ontario, but so sad about the swan being killed by the coyote. It is a little early for spring yet really, but we seem to have had a very mild winter here and perhaps the birds think it is time for the big thaw, and new growth already. It must be confusing for them, mustn't it? The swans we had here were the white ones with orange beak, which are mute swans. They seem to be the most popular breed here, but when I visited a monastery in Kent last year, I found the one in the picture. The Friars Monastery is full of hundreds of geese, ducks and waterfowl, amongst them, this most regal of black swans. I just had to take a picture of it. The Friars lies beside the River Medway, not far from the inlet, so attracts a whole host of birds. The monks feed them every day, without fail, and they have put a number of bird shelters on a little island under a weeping willow. It's a beautiful place... so serene. I must go back there some day. :) Thank you for your input my friend. I found it very pleasant to read and could even imagine the "disappointment" of the swans at having to cool their rear ends on the ice flows in the creek! :) Brightest Blessings.

• Canada
4 Mar 08
Please, Please, there are No "Canadian Geese" They are Canada Geese. Canada geese breed in the United States too. They cannot be Canadian! Please get out your bird book. Thanks!

• United States
4 Mar 08
I have not seen much of the geese as in past years. Normally, we can watch them fly to Canada and back again. They make a stop at the neighbors pond for water and continue on. But this year, they have not been here yet. I keep watching for them.