Do you floss your teeth?

Australia
March 3, 2008 10:34pm CST
I floss my teeth once a day and brush twice a day. I know some people don't floss quite as often but I think it's very important to, as food can get trapped in between your teeth and go rotten, causing bad breath and decay. If you do floss, do you have a preference? I like the mint flavoured floss, it gives mey m outh a fresh minty clean feeling. I also don't like my floss too thin. I feel it's ineffective. So what's your take on floss?
5 responses

• United States
4 Mar 08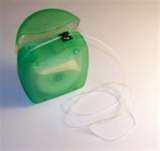 Yes I do and I love doing it because it makes my mouth feel so much better. I love the taste of the spearment flavor which makes my mouth or breath smell sweeter too. Besides all of that, it's very good for your teeth.

• Australia
4 Mar 08
You all sound like you have lovely healthy teeth! Good to hear.

• United States
4 Mar 08
Of course I floss..I would hpe that everyone has the good sense to floss their teeth...That is why so many people loose their teeth,flossing is a ver important part of dental hygene,also brushing your tongue is very important as well,millons of germs hang on the tongue...Brushing your teeth,and tongue and flossing is very important in order to keep your teeth...Some people lose their teeth due to causes beyond their control but most the people loose their teeth from neglect..

• United States
4 Mar 08
I brush my teeth about 3 times a day and I also use a toothpick to clean my teeth out after eating. I floss about every other day to get whatever the toothpick didn't get out from in between them. I like the mint flavored floss also and mine if fairly think too and it cleans between the teeth fairly well.

• United States
4 Mar 08
I like thicker minty floss as well. I floss and brush twice a day. I do carry floss in my purse though in case I eat something during the day that I just can't get out of my teeth. So sometimes though rarely I floss 3 times a day.

• Malaysia
5 Mar 08
Dental floss is very good thing to practice its application on our teeth. especially for those who is having tooth-gap-internal, where it traps unused foods after our food intake and where tooth brush does not work for its cleaning purpose. But I don't use it as I experienced tooth gaps now after all of my premolar tooth gone. So, now I'm using liquid wash product, LISTERINE, to kill both; bacteria and bad breath.