A good life! Do you think everyone is privileged to have it?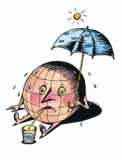 Philippines
March 5, 2008 6:24pm CST
I am always touched by street children who amidst the seemingly hopeless case that they have, they still work hard to earn something for their stomach and never loses hope. Many of them are working hard to earn a penny and knows how to earnestly pray. I have witnessed one who always goes to the chapel every morning to thank the Almighty for her new day and ask for safety. I never heard her ask for a better good life or more money today. I was fascinated that I went near her and hear what she will pray for. What about you, what do you ask for in prayer everyday? Is it a good life or is it a thanksgiving?
10 responses

• Philippines
6 Mar 08
Every time I pray I always ask for God's forgiveness first for things I have done wrong and for things I haven't done, yet It needs to be done. Then I thank him for all the blessings He has given me. I seldom ask for anything material in nature since I know I have to work hard for it. So just pray for guidance and wisdom.

• Philippines
20 Mar 08
What is truly necessary is gratefulness and thanksgiving! Thanks for droppin' by!


• Philippines
6 Mar 08
When we pray, we usually put our hands together. Our fingers represents something that will always remind us of our intentions and petitions. Thumb is for our Love ones; Index finger is for those peope how teach or preach; Middle finger is for the leaders; Ring finger is for the weak and needy; Pinky finger is for our own self. People usually pray because they want to ask something but it is always nice if we include thanksgiving. In one way or another our prayers are always answered... it may be yes, no, or maybe it is still on hold as to when the right time comes.. nevertheless, we are always bless everyday.. =)

• Philippines
6 Mar 08
Indeed, in it's own time, prayers are answered. Not exactly what we wanted by what we truly need. Thanks for that wonderful response. Keep posting!

• Philippines
6 Mar 08
I barely remember the song, In the Eyes of a Child. But it says, that through those eyes, there's Joy, Hope, Love and Laughter. These children should be enjoying their time on school, but for some reasons they spend their younger days on streets making their way for a living. My thoughts and prayers are always for their well-being, that our government should focus their attention on them and support their families. Whenever I pray, I always give thanks for the blessing me and my family receives as well as those other unlucky few who are still striving for them to experience at least the simple joys in life..

• Philippines
6 Mar 08
You are a good person. Well, their are really good people still alive today! It makes life more paying forward. Yes, these children may not have the privilege like others do but as long as they work hard and do something, I believe the good Almighty will always bless them and grant their requests at the right time! Let's hope and pray that our country will have the heart for them too. Just as they say, efforts bear some fruits! Thanks for that wonderful response!

• Philippines
6 Mar 08
normally when i pray i do these 3 steps.. as i pray first i would ask for forgiveness on things i have been committing over and over again, and for the things i would unconsciously be committing for the next day. i also ask for forgiveness for taking Him forgranted. after repenting of my sins, i start asking for longer life, strength and wisdom coming from Him and other requests thay He may and may not answer. lastly, i thank God for the protection that He has offered me althroughout the day. the guidance as he walked beside me just so i can walk to the right path where He is walking. i thank Him for answering and not answering as well for the prayer request that i have been praying about because there are answers to that. one, it is His will for those answered prayers and secondly, is that He has something more to offer to you which is better..

• Philippines
6 Mar 08
Wow! Thanks for sharing that.. you made my day! Truly, when we have people around to teach us good things, it's a good life after all! Have a great mylot moments!

• Indonesia
6 Mar 08
I think not a soul in this world isn't privileged to have a good life. God is ever so Merciful and Generous... but also wise and fair. People can only get what they deserve. I think the meaning of "a good life" is different from one person to another. Some have to have it all (money, power, looks, etc), while some people are satisfied by the simplest things, such as in the case of that little girl who only prays for safety. I am no hypocrite, i don't pray as much as i should, but i always keep God in mind and i always pray that He gives what He considers best for me (in all aspects) in accordance to His judgment.

• Philippines
20 Mar 08
Indeed, we have what we desire and work for. Thanks!


•
6 Mar 08
Life is fill of oppertunities to learn,so take every single one that u can,

• Philippines
20 Mar 08
Yes, opportunities are full, its the take a grab that counts. Thanks!



• Philippines
20 Mar 08
Yes, everyone wants. It just that not everyone is willing to pay the prize.


• India
6 Mar 08
i think everyone should get what they do in reality. the poor children at streets also make me sad. i do not know why they are in that way always. they really work hard to earn penny.i think there should be great changes in society needed to make uniform income.

• Philippines
20 Mar 08
Yes, everyone will agree with having a uniform income. However, we still work at different phase, persistence and efforts. So, income will always vary given the same opportunities. Thanks!


• Malaysia
6 Mar 08
Praying is a must in me.. i always do it.. every morning and every night. Sometimes i do it in between too. In my prayer i mostly will ask God to keep me, my wife and my kids safe and happy always. I also will pray for HIS blessings in my job and to strengthen me financially so that i will be abe to support my family. I also do thank GOD for all HE have done for me even if its just a minor think.. i'm still happy to praise HIM. Nice topics pal.. happy posting

• Philippines
20 Mar 08
A prayerful life is truly a good life. Thank you!



• Philippines
6 Mar 08
Indeed, that's a good way to start a wonderful day! For me, I pray for all my loved ones and that we can make the day putting a smile on the maker. It's nice to start everyday entrusting all your cares to the maker. Thanks for responding. Keep posting!