Update from the Scrapbooking weekend retreat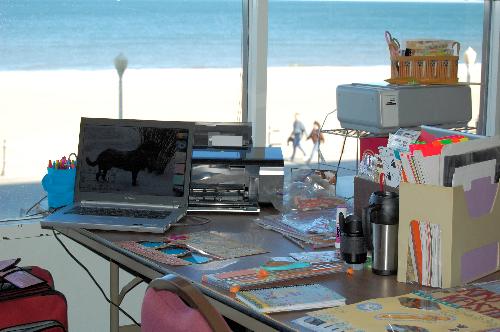 United States
March 6, 2008 5:57am CST
I arrived back home Monday, from our scrappin weekend. It was so much fun, wish it had been a few days longer lol. For those of you who are interested in this I wanted to post a picture of our scrapbooking work area, and the view that came with it. For anyone that is interested, leave me a message and I will get you information on this crop weekend as soon as I have the information, dates, times, location, etc.
3 responses

• United States
15 Apr 08
I have never heard of doing a scrapbooking weekend. That sounds interesting, but is there any other things one could do that weekend in case you don;t want to scrapbook the whole weekend?

• United States
15 Apr 08
It was totally come and go as you like. The cropping room was open from 7am to whatever time the last scrapbooker left at night, my daughter and I stayed up til 1:30 scrapbooking. You have a 6 ft table to work at, and the one we went to was in Virginia Beach, the hotel and crop room had a view overlooking the beach. So, at that one you could go shopping, which we did,lol go for a walk along the beach, or any other activities that you would have wanted to go do or see. I'm not sure where you live, but we are planning one for the later part of 2009, only in the planning stages at the moment, it will be in PA.

• United Kingdom
7 Mar 08
Looking at your photo I can see that that your scrap booking weekend took place in a building with a gorgeous ocean view. The desk that you had looks full of useful materials and everything you needed to make a fantastic scrap book. So what did you put into your scrap book? I come from the UK and wonder what sort of things people use for scrap booking. I imagine that it must it must be a book with card, paper, ribbon, photos, writing and pictures. If so it must be a lovely keep sake for you or for your family.

• United States
9 Mar 08
We normally use 12x12 (inch) paper, there are thousands of different prints and plain, ribbons, photos, journaling, we also use all types of embellishments, buttons,glitter, 3D stickers. I started my first scrapbook 3 years ago, when I moved 1600 miles from where I had lived to start a new life with a wonderful guy, I now am starting on our 3rd scarpbook, one for each year, and I have one pertaining to his career, my work and our dog has her own scrapbook. I made one that was 8x8 dedicated to our scrapbook retreat. It was held at a hotel meeting room, our hotel room also had a balcony over looking the ocean. It was a great weekend, just too short lol

• United States
31 Mar 08
Thanks for sharing your picture. What a great view! I'm glad that you had such a great time!