Battery Question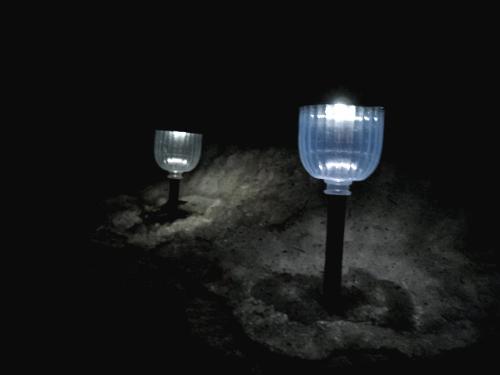 United States
March 12, 2008 3:37am CST
Attatched is a photo of a couple of solar lights I have in my yard. They run on AA batteries. Now I want to know if I
have
to use rechargeable batteries or can I use standard batteries?

Right now I placed a few new regular ones in them and a couple rechargeable ones. They are all on but I wonder if the regular ones will be charged during the day or will they just drain over time and not recharge? Any help would be greatly appreciated.

I can't recall if they came with rechargeable ones or not. I really don't think they did though but not positive.
HAPPY POSTINGS FROM GRANDPA BOB !!~
4 responses

• Cambridge, England
12 Mar 08
Regular batteries are not designed to be recharged (though there have been claims that they can be, it is not really a very safe or effective thing to do). Solar lights, such as this, cordless phones and other appliances which recharge internal batteries should always be fitted with the appropriate rechargeable batteries. These should be fitted as a set: all the batteries in a unit should be of the same age and type. This is because, as batteries age, their internal resistance changes and they are likely to charge at different rates. Hope that helps! I wish you light on your path through life


• United States
12 Mar 08
So the regular ones I placed in them will just die as usual then? Will they hurt the effectiveness at all of the lights? HAPPY POSTINGS FROM GRANDPA BOB !!~

• Cebu, Philippines
23 May 16
Regular or primary batteries will eventually leak when recharged. Put some rechargeable, the cheap ones will do.

• Adelaide, Australia
16 Jan 12
They do all come with rechargeable batteries, if they do come with batteries at all. Usually cheap "no-brand" batteries. I was given one of these as a present one Christmas many years ago. If you read the warnings on standard batteries about possible leaks or explosions if recharged, it may put you off doing it - & I wouldn't really recommend it. But, seeing they're outside, maybe an explosion wouldn't matter so much? Watch for leaks though - that stuff is really corrosive & can eat away at the circuit. There are many differences between these two types of batteries. Whether standard batteries will accept a charge is debatable. I reckon the light output would be better initially at least, as standard batteries have a standing voltage of about 1.5V - slightly higher for alkaline batteries. Rechargeable batteries only have 1.2V open circuit. Either way, I reckon the batteries on this one would be well & truely cactus by now!

• New York, New York
13 Mar 08
Hi Grandpa Bob, my brother has those solar lights outside his home and he says you need to use the rechargeable batteries. They are so cool how they work as soon as it gets dark.