are you a shoulder to cry on?

Philippines
March 18, 2008 9:07pm CST
are you a true friend?always there for your friends?never leave them?
11 responses


• Philippines
30 Mar 08
Yes, i can be one of them. I can give advice, shoulder to cry on, laugh with you when you are happy. Watch with movie, do some naughty things.I am you critics. A best friend tells you what you need to hear and a friend tells you what you like to hear. Slapped to wake you up. Remind you to be strong. Just don't borrow from me, where not friends at all.lol Just kidding.


•
22 Mar 08
Yup I am, im always there for my friends and ive some great ones as they are always there for me too. Im good at listening and not speaking which I find so many people need to do sometimes, and I do really listen not just pretend to

• United States
20 Mar 08
This sounds like a very wonderful thing to do but sometimes you have to step back and tell the person that they have to stop crying and do something about the problem. There are people that all they really want is to cry. If I feel someone is doing that I back away. Life is to short to be with people that will not do any thing for themselfs.

• Philippines
20 Mar 08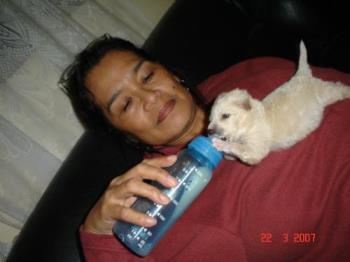 I believe so. Yet still, there are limitations as to when I will always be there. I also have concerns and priorities in life and it cannot be said that I will never be there to do some favor. Rest assured, I am a friend in need and in deed.


• China
20 Mar 08
Yes, i think so, i 'm a true friend. i'll stand by my friends whenever they need me. I'm a good listener, and i can provide good advices.



• Philippines
19 Mar 08
I am proud to say I am one. My friends always tells me that I am more of a good listener, so every time they want to speak they always feel comfortable talking, crying or confiding with me- a good shoulder to cry on indeed. Take care.