How much thought goes into what you feed your pets?

Canada
March 19, 2008 2:33pm CST
I was shopping with hubby the other day and we were in the cat food section. We were choosing the different types of foods they like and their favorite flavors and making sure that they had different flavors this week than last. Then we bought their treats. I mentioned to hubby that maybe we spoil the little darlings and pondered out loud if others did the same for their pets. I figure we do it because we have no human kids and these two little bundles of fur are our babies and therefor we can spoil them. He mentioned he heard a co-worker on the phone saying he couldn't be bothered to stop for dry cat food on the way home and the cat could just eat some of their dinner. So I am wondering what do you feed your pets and how much thought do you put into their meals?
7 responses

• United States
20 Mar 08
I homecook my dogs meals. She has either beef, brown rice and veggies with omega 3 and vitamin additives, or turkey and chicken with the same thing. Sometimes it's brown rice, sometimes it's chicken flavoured rice. She has been thriving on these meals since she was a puppy. She also has holistic kibble she eats dailey.

• United States
20 Mar 08
[b][/b][i][/i]Spoiled is more like it LOL. She refuses to eat dog food so I have no choice, but since the commercial dog food scare, I'm glad now that I cook her food myself. Of course, that doesn't always mean that the ingredients I buy to cook it can't be contaminated at some point. Nothing is safe any more



• United States
19 Mar 08
I used to spend an exorbitant amount of time prepping my pets food. I was feeding them raw meat for awhile... chopping it up in bite size pieces, warming it up to 'fresh kill' temperature, making sure there was plenty of fat, a little seasoning, a little bit of liver, a little bit of heart, a dab of cheese, some egg, some vitamins... gawd it was time consuming! I did that because it was not possible for me to get 'health food' for them up here in the mountain. Now I just feed them 9 lives. Yeah, it's junk food, but they like it and it is soooooo convenient. Plus I keep cans of sardines, tuna, and salmon for treats, or if I run out of their regular food. Not to mention the copious quantities of half and half they consume. And bites of anything I eat. I love giving them a slice of green pepper or something like that when they're all hovering around me trying to stick their faces in my plate, it's gets them to leave me alone real fast. Hehehe.

• United States
19 Mar 08
Hehehe... notice I said 'pets' at the start of my post and then proceeded to talk only about my little darlings? Poor puppy dog. He only wants to kill my kitties, and that has created a rift in our relationship. I also thought the raw meat diet would handle Wolf's skin condition, but he's too civilized for raw meat and would turn his nose up at it so I started briefly cooking it for him. So first I would have to mix and warm the cats food and then I would have to cook for the dog. I'm telling you, I was spending a goodly portion of my day in the kitchen just to keep my little beasts happy. Anyway, now I just give him Pedigree and the occasional meaty bone (the only time he likes his meat raw, hehehe).

• United States
19 Mar 08
I've never bought these cats any toys. Well, I did buy the christmans ornaments that they love so much. It was a hard plastic brightly colored bulb. They never get tired of it. They totally destroyed one over the course of a few weeks, so I pulled all those bulbs off the tree and saved them for the kitties. Sometimes I phuck with them by tying it from a long string hanging from a rafter... they go nuts and entertain themselves, and me, for hours. They also like paper bags, cardboard boxes, my shoes and shoelaces, and they like to boing plant leaves.

• Canada
20 Mar 08
My cat is pretty simple and very cheap. The cheapest things thrill her and for that its kinda nice but we do buy her stuff on holidays etc. The food she eats is friskies (has to be chucks with the gravy, chicken) Yes chicken that's all she really cares for. We do switch in turkey or the beef once in awhile as well. For hard food we get friskies as well as alley cats plus one other one that I can't remember the name of it. Mix them altogether as thats the only way she eats the hard stuff. With toys we buy her the little plush toys, bunnies, santa last year. (Don't think we will ever get her a santa again as she bit his head off. Her two favorite toys are a snake that she first got for a toy as well as milk jug tabs. She goes nuts for this little tab and keeps her occupied like crazy. This cat is very picky to say the least. She also loves her sandwich meat. So we do give her some of that. But in moderation. Raw meat is another bad one.

• Canada
20 Mar 08
Yes the food she eats is very reasonable priced. She don't care for the expensive stuff as we have tried to give it to her before and she just won't eat then. We had to clean out the cupboards and get it out of the house as she did not like it.


• United States
19 Mar 08
It really depends. For the most part, the cats eat either Purina or Meow Mix Indoor Formula dry food. The one cat loves people food so she often gets bits of everyone's food. This cat eats things my dog won't eat and that's not saying much. I occasionally buy soft food for the cats, but not for a normal meal because they eat way too much of it. When I do buy them soft food, they get specific flavors that I know they like better than others and I also mix it up so they don't eat the same flavor twice in a week. The dog, on the other hand, has Pedigree dry dog food, but primarily eats people food. We make him a container of all the leftover foods and that will be his dinner for the next night. Up until recently the dog had been having some issues with chewing the crap out of himself which everyone believed was just part of him being a Chow. They are notorious for having skin conditions, but he's also part Black Lab. I don't know where the hunch came from, but I got one and quit giving him milk. He hasn't chewed himself since. So he's allergic to milk and can't have that anymore. Nor his favorite ice cream


• Canada
19 Mar 08
I have never seen a Chow/Black lab mix I bet he is a cutie pie. I didn't know dogs could be lactose intolerant it is a good thing to know. I have one cat that loves butter and when she smells butter in your plate she makes a beeline and can be really annoying!

• United States
19 Mar 08
My dog is a breed that is notorious for skin conditions too. He chews himself bloody. I'm embarrassed to take him anywhere with me anymore, except up in the mountain. We had him in and out of vets so often it was ridiculous. One of them laughed and said our dog was allergic to Iowa (that's where we were at the time). I corrected him... our dog is apparently allergic to everything, but I think especially cats. And I'm not getting rid of my little babies because he wants to act like an a$$hole around them. I wish it was something so simple as removing milk from his diet!

• United States
20 Mar 08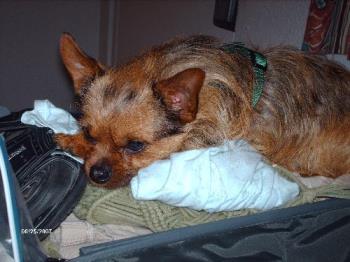 My little guy was started out on BilJac as a puppy and we continued with it since it agrees with him. He'd love to eat tons of table scraps but his little stomach can't handle much except chicken. Have to confess he cleans off quite a few plates before they go in the dishwasher though.

• United States
19 Mar 08
My cats are very picky eaters. I have tried all kids of cat food. But there is only one brand they eat. Its a cheap brand. I have tried treating them with table food(bologna,tuna,hot dogs...etc) and they won't eat it. They won't even eat the kitty treats.

• Canada
19 Mar 08
Cats are much more finicky that dogs I think. Mine will only eat those Whiskas treats anything else and they walk away like little snots. I have noticed they don't care for some of the expensive brands and love some of the cheaper stuff, then the next week they change their minds again and I don't know if it is because they are female of because they are cats.