Sakura fans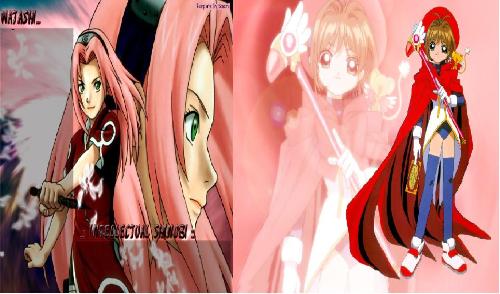 United States
4 responses


• United States
19 Mar 08
I guess i can If you can send me more photos or give me a site name that would be nice.

• United States
25 Mar 08

• United States
25 Mar 08
Sakura - Priest/Medic/Teacher (Urusei Yatsura) Sakuranbo - Sakura's Uncle/Monk (Urusei Yatsura) Sakura Kaedeko - Tokimeki Memorial 2 Sakura Kinomoto - Cardcaptor Sakura Sakura Kusagano - Street Fighter Alpha Sakura Shinguji - Sakura Wars Sakura Yoe - Shuffle! "3", Really? Really! Sakura Yoshino - Da Capo, Da Capo II Sakurai Yoshiyuki - Da Capo II Sakura is a generic name but rare in Disgaea

• United States
26 Mar 08
A list of Sakura's from anime/gaming since you did ask for them. In actuality I like the Sakuras from most of these series and not really the one from Naruto.

• United States
6 Apr 08
Its not just the one from naruto its from Card captors as well but i will look into the other Sakuras.iF YOU LIKE THE GIRLS FROM NARUTO i HAVE A SITE FOR THAT

• Murfreesboro, Tennessee
20 Mar 08
You know, there are other anime interests already up... one of which has a lot of members. The one under "TV shows that I watch" has the most members, over 2000. If you post your anime discussions there, you will likely get more responses, because more people will see it.

• Murfreesboro, Tennessee
20 Mar 08
Grr, that was supposed to be a comment under my other response. Oh well. I'm stupid tonight. I was also going to say, I lost my CardCaptor Sakura collection when my hard drive crashed, but I had downloaded more than 80 episodes, I know. I got mine through downloading via bittorrent files, though I'd have to search to find the torrents to do so again. I'm going to have to re-download it all eventually to watch again, because I did really enjoy it. Largely what bothers me about the CardCaptors version is how they mess up the relationship between Yukito and Toya.


• United States
26 Mar 08
Thankyou Soooooooooooooooooooooooo much for the Idea Il repost these intrests right now

• Murfreesboro, Tennessee
19 Mar 08
I've heard of an anime called "Sakura Wars", and I'm pretty sure the main character's name is Sakura in that. I love both the Sakura's you named. I've always loved Card Captor Sakura, though the American version annoys me because of some of the things that were cut out of it. I wasn't big on Haruno Sakura early on in Naruto, but once she started growing a spine I started really liking her.


• United States
20 Mar 08
Thanks . If you have any Ideas to give Ill be glad to take them to inprove this Interest leave me a message. : )

• United States
20 Mar 08
I love card captors but on you tube it like only goes up to episode 80 I want to see the second season : (