Have you adopted some wandering dog on the street?

China
9 responses

• United States
21 Mar 08
My mom did this years ago. She saw a small dog on the street, picked him up and brought him home. It was a male and we named him Sammy. I don't remember how long we had him or why we got rid of him, but eventually we did get rid of him. I probably wouldn't pick up a stray right now, because we have a dog now. But in the future I might.

• Malaysia
31 Jul 09
About 10 years ago, back in my hometown. Not one but two dogs came to our house. We never found out where they came from and they never went away after we fed them. It is our belief that when a dog came to your house from nowhere and wanted to stay, it is a good sign of luck. so we let them stayed and adopted them both. If I see a wandering dog, I wouldn't adopt them, but if one came to my house and wanted to stay then I will...

• China
29 May 08
no i won't.coz maybe there is some bacilus in it.if i take it home,my family may be in danger.anyway,i won't take such risk.


• United States
23 May 08
One of my current dogs is a stray. I could not locate the owner, either. A friend of mine from another state is taking her. She is a very sweet dog and friendly. I took her so that she would not be abused also. I would always take them in or take them to a no-kill shelter.I already have a large dog (my baby)and kittens, so I cannot keep her.

• United States
26 Mar 08
yes,if i seen some dog wondering around all by its self and couldn't find the owner yes i would adopt it.I have done it before and would do it again,every animal deserves a good home.


• United States
21 Mar 08
My husband and I took in two dogs that way. We ended up finding them good homes with friends because they were big dogs and frightened our little dog that we already had (we got her from someone who'd found her living on the steps of a church in a small town). I think homeless mutts make the best pets; they seem so grateful. My little church dog was the sweetest thing....

• United States
21 Mar 08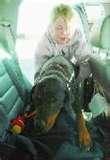 I did a few years back and he was a cutie but he was hard to handle alone. My husband had to go to Korea for a year and so I had to give the dog away to a good home because he had too many issues to deal with by myself but gosh it was so hard to give him away but I knew he went to a good home.