Housewives: Do You Ever Feel Restless And Bored?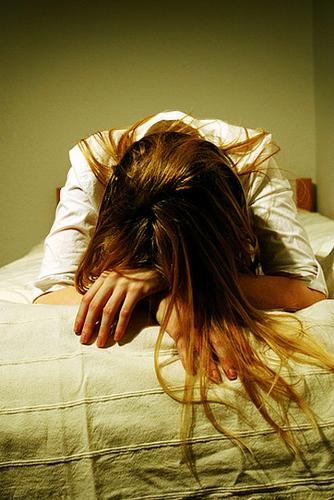 Australia
March 21, 2008 10:48am CST
What do you do when you feel like this? I mean, after you get everything finished, what do you do to keep from go completely batty?I was married in April of 2006 and I love my husband dearly. I have Generalized Anxity and Panic disorder, so it's hard for me to work with the public. Instead, I am a stay at home housewife. At first, I loved being home to do what ever I wanted, of course, after my work was done. However, the last few months I have been getting panicky and restless. These last few days I have been feeling extremely restless and I am tired of the same old routine day in and day out. I have lost interest in food and everything that used to interest me. They all seem to bore me now. My husband even said that we will go out to eat tonight and I said fine but I'm not very excited about it but I want to be! I feel bad for him as well. I want to be back to my normal self again. He says he does not mind and he understands but it bothers me. Of course, it doesn't help when I have been feeling crappy and sick this winter. I have a doctor's appointment on Tuesday and she will be doing a full checkup on me. What do you do when this happens? How do you find your joy once again?
6 responses

• United States
22 Mar 08
This really doesn't have anything to do with the fact that you are a house wife.. the things you are feeling are due to your panic disorder and you depression (depression makes the things that you once enjoyed, seem boring and even makes food taste tasteless) I was diagnosed with panic disorder when I was 3 months pregnant with my 16 year old daughter and my panic attacks are exactly like a stroke... I can't walk or talk for hours after a bad attack the lesser ones leave me in tears and feeling like I can't breathe. And I've had depression since I was very young.. it comes in bouts.. and when I go through a fight with depression, I can tell you it's one of the hardest things I've ever had to fight in my life! I tried taking many of the medications that is on the market for depression and panic disorder and it did nothing to help me.. I hope it works for you :) until then... find you a funny movie.... or a friend who will chat ya through these rough spots! you will be amazed how much that helps!

• Australia
23 Mar 08
Yeah, I agree! I hate it! I don't see myslef ever having kids because I don't think pregnancy would be good for me. My husband likes it just being the two of us and says he wouldn't mind that either. I always imagined myself as a mother but this thing is just too scary and I couldn't imagine what I would do if I were pregnant and facing one. How did you get through your pregnancy? I had a really bad episode thie weekend. I thought I was completely losing my mind. It scared me. The night before last it started and then I couldn't sleep the whole night. All day yesterday I was having a ongoing attack. I went to the an Urgent treatment Center but they could prescribe any Xanex, which usually helps to calm me down but she did give me Ambien CR and that seemed to helped me to sleep last night. I feel a little better today but you know how it is when you go through an attack. It's never far behond you.... Thanks again, I appreciate it!


• United States
21 Mar 08
Yes! I also have an anxiety disorder that I deal with. This is one of the reasons I don't work outside of our home. I have tried many times. The maximum I usually last is 3 months; then I get sick. I hate it. The worst part is that I don't drive here and even if I did we only have one car. When we lived back home I could leave the house at least! My family was there. I can't wait for it to get warm so I can go outside for awhile. The cold weather only cements my misery. My husband does his best to take me out often but sometimes I dread weekdays so bad. They seem to drag on and on. And by the time he gets home I just don't feel like doing anything anyway.

• Australia
21 Mar 08
Yes, I am the same exact way lately! I long for the days he is off and then when they are over, I get anxiety. His going to work never used to bother me other than the fact that I knew I would miss him. Lately, it seems like I NEED him home. It's an awful feeling and I hate it. Then when he gets home, I am so exhausted from the struggle of keeping it together all day that when he comes home, all I want to do is rest. I hate not being able to just be happy and ralaxed...

• United States
21 Mar 08
It sounds like you have a mild case of depression.Getting outside for a walk or exercising could help. I am a stay at home mom with advanced depression, its bio chemical but yours can go away. When normal people have a life change it can effect them mentally, usually loss of joy and panick attacks.I usually walk somewhere for lunch or invite my parents over and we go shopping. Another thing that helps is opening a window and the curtains to let the light in and putting bright colors in your home. Hope this helps.

• Australia
21 Mar 08
Yeah, definitely and I agree with your suggestions. I just want to get things back to the way they were before I started feeling this way.

• United States
22 Mar 08
Lately I have been feeling bored and restless. Now that my son is in Kindergarten I know that all I need to do is find a part time job or something for me to do to keep me busy other than doing the household chores, which I dislike doing all the time. I was working during the seasonal christmas period but when it came to asking for something permanent I couldn't work the hours they offered only because it interfered with my sons schedule. I do try to get out of the house more often though, even if it means taking a walk to the local store, or up the road somewhere. Even though I don't drive I do have access to a metro and bus, so I often go to the mall and treat myself to a nice latte and sit and read a book or window shop and enjoy browsing the stores. Now that the weather is picking up I am determined to pick up my walking again along the bike trails so I know that is going to make me feel a lot better than I am at the moment.

• Garden Grove, California
22 Mar 08
I don't drive either but our bus goes right past our apt complex so I can hop on and go down to larwin Square and shop or get a snack or sit outside the starbucks and read.

• Australia
23 Mar 08
Yes, with the warmer weather coming, I think I will start walking to this place called triangle park. I has these steps where water trickles down. It's not too far and it can be relaxing. I may bring a book and read or whatever. I am thinking of getting crafts to do as well. Also, my sister does not live too far from here and I can go there and spend time with my mom. They have a nice backyard as well. Still, I don't want to be too dependant on there. I want to be able to feel content in my own home....

• Garden Grove, California
22 Mar 08
I also have anxiety and panic disorder but I have pretty much overcome this in the last few years. I was going to suggest volunteering for something that suited your fancy but that is out with panic disorder. Of course when you get a full checkup you might well find the cause of your restlessness too. You sound like you might be having depression but I am certainly not a doctor.It is just that you said you have lost interest in food and other things that used to interest you. I am hoping that your doctor will be able to help you.for me I was so depressed when I was forced to retire and then I lucked onto MyLot and it has been god send for me and also I do some surveys for money and while they do not pay a lot they are interesting and give me something else to do. It is hard to just quit working after some twenty years.At least you do have a husband and it sound like he loves you very much so that should help. wish I had more to suggest. do you have friends you can share with and find some comfort with? I have one close friend who takes me out to dinner every other week and I cherish that as I feel so isolated here after having lived down town all these years. good luck with your dr appt

• Australia
23 Mar 08
Yeah, I have my family and hubby. I am going to start spending more time at my sister's house instead of always in this small apartment by myself. Honestly, the internet makes my anxiety worse because I think when I am on to long, "I have been on this thing too long." I usually get so caught up in it that I forget about food as well. So, I think I may have to spend a little less time on her. Plus, some discussions stress me out... Thanks!

• United States
22 Mar 08
Hey! We all feel like that sometimes, it sucks! Just try to remember with the bad comes the good and hang in there!