My dog ripped her toenail half off!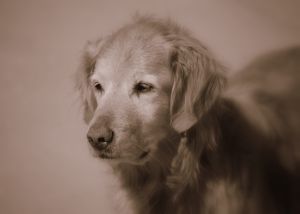 United States
April 2, 2008 6:43pm CST
So, my dog is thoroughly enjoying her huge backyard and the fact she doesn't need a leash anymore. She came in today bleeding profusely and I noticed one of her nails was ripped in half (lengthwise) and almost right down to her pad! Most of the nail was hanging off at an odd angle. I called the vet and she said to cut the rest of the nail off, and that it would probably bleed all over again because of the vein. She said to have flour ready to stick her paw in to stop the bleeding. (yes, flour). It was after hours, so she recommended I try doing it myself to avoid the HUGE emergency visit bill. Well, I went to look at my dogs paw again and she started like she was gong to snap at me (she can be like that under certain circumstances...). So, I decided maybe I would let the vet do it and figured I would wait and take her tomorrow. After a while, I took a better look at it and decided I probably could do it after all. We were pretty nervous, to say the least. I asked my husband to be ready to hold her head so she wouldn't bite me (it was a front paw...easy access to me with her teeth.) So, I straddled her, lifted her paw and hubby pet her head. I got the clippers in position and told him to grab her muzzle to keep her from biting me. "Ready? Here I go. NOW!" The toenail clipped right off and SHE DIDN'T EVEN FLINCH. No flinch, no yelp, no jerking, no biting...not even any blood...nothing. We laughed so hard...and she went and started eating the flour thinking I'd put it there as a treat for her!! ROFL!!!It was too funny how stressed we were and almost didn't even want to do it...and then it was over in a split second!Has your dog ever ripped a nail bad like this? Did you remove it yourself, or to take them in to the vet? Did it get infected after?
8 responses

• Australia
3 Apr 08
Yes something similar happened to my dog actually, you see I did not witness what actually happened but like he was in the yard and when I bought him in he was kind of limping. I looked at his leg and the front paw there was a nail just hanging there. To make matters worse he would not even let me attend to it or touch it. I can understand he was in a bit of pain because it was kind of bleeding. I felt so sorry for him and took him to the vet. They had to put him through day surgery because to pull it off would hurt and he was already frantic about anyone touching him. So I agreed and let the vet take it off in more humane way. I did not want to see him suffer, I love him too much for that. I hate when their nail gets caught in places and causes them such grief. He won't even let me cut the tip off.

• United States
5 Apr 08
WOW! I am very glad we didn't have to go through all of that. Thank you for sharing.

• United States
2 Apr 08
Wow that must have been scary. I would have been to chicken I think...lol I haven't had anything like that happen to any of my dogs...,yet. I did have a snake, ball python that I had to give antibiotic shots to daily many times...that was tough the first time. I just would have been so scared I would make it worse. I hope your dog feels better quick. Have you figured out how it happened? Blessed Be, Mari

• United States
5 Apr 08
No idea except that her nails got babied for the past 9 months as she was put out on a short leash and they were a little long. Now she has a huge yard to run around in and I think they're just taking a beating. Giving shots to a python-


• United States
2 Apr 08
Wow, how scary. Did you ever figure out how she did it in the first place? I've never had that happen with my dog, but I've had to patch up horses when they've gotten into something. Biting and/or kicking is always a concern with them too!

• United States
5 Apr 08
No, she is used to being on a leash for the past 10 months so her nails didn't get worn down. I trimmed them but they were still long. I think that with her being able to run around now it is just hard on them. I was kicked straight on in the upper stomach/chest area by my horse once. Thought I would never be able to take a breath again.

• United States
3 Apr 08
oh thats so sad. glad to hear it all worked out. i would of been like you and been a mess. we would of been the other way and i would of made my hubby do the cutting. we had a big problem with ticks and i would sit in her face and talk to her while he got them off. that was sad for me cuz someone told me they had one on them and it hurt to take it off. thank goodness she didn't bleed anymore i was always afraid of that. i would never do what you did so great job to you.

• United States
5 Apr 08
My husband didn't want to do it cause he felt to bad...he figured with my nurses training I could handle doing something that would cause pain simply because it had to be done.


• India
3 Apr 08
Hi, For me it was no ripped Nail but the side of her ( Dalmatian ) mouth between the folds was ripped open by 2 inches long wound. First we didn't see her bleeding. She had killed a field rat which was weighing about a kilo and half. It was so big and we were stunned watching the rat. She was just moaning, when I went near her I could see the blood, then turned her mouth there it was a big wound. We called the vet, he came up , it was 10 pm by the time he came home. Our living room became a mini operation theatre. She was given aneasthetic and was stiched up. It took three or four days to heal somewhat. But she was quite energetic and running around. She removed the stitches herself and was all right with in a week. Can't even think of it now. It was three years ago and now she is as playful and naughty as she was before.

• United States
5 Apr 08
wow...I bet that was very harrowing! Glad she healed well and quickly. Thanks for sharing.

• United States
3 Apr 08
my dog chews his nails. its like a neurotic, nervous habit he has. sometimes I'm sitting there and ill start to hear this grinding sound and when i look at my dog Patch, he is sitting here positioned holding one of his legs with another, and going to town on his nails. its actually pretty funny and entertaining. if i didn't stop him from doing it he could easily sit there for hours and be totally content with himself.

• United States
5 Apr 08
Oh that is funny! My dog has a habit of licking the top of her leg just above the paw. She will lick it raw if I don't stop her. I use that "dog whisperer" noise...it works!

• Garden Grove, California
3 Apr 08
My dog Swap did that once . It bled like crazy but she let us trim it and it healed really pretty fast. She seemed to know we were trying to help her and held really still. no problem

• United States
5 Apr 08
Yeah, maybe she knew we were trying to help it feel better. Thanks for responding.

• Jamaica
5 Apr 08
We have never had that happen to any of our dogs. Chills went down my spine when I read that, but I must admit the dogs reaction amazed me too. I thought she would have really given you a hard time. Goes to show how much we can never entirely rely on our predictions of how one might react. Im Happy thats how it turned out though and I hope it gets better soon. (lol)