so difficult to get a credit for buying a home

Romania
April 6, 2008 7:52am CST
i intend to get a credit next year to buy my own house as i will get a job after graduating this summer and i read more information about credits and it seems to be so complicated as i have to show to the bank that i have an amount of money about 15 -20 % from the value of the house and that amount means so much and don't know if i can save it.what about in your country?are the terms so hard?
4 responses

•
6 Apr 08
As far as I know here in the UK if you want to purchase a house then you have to be employed, have a reasonable credit rating and be able to afford the monthly repayments. How much you can get a mortage for is dependant on how much you earn, however some banks/building society do lend up to, maybe more 100% of your earnings, ie you earn $20,000 you can borrow $40,000. I dont know if you have to stump up 15%-20% like you, but a small deposit may be needed.

•
7 Apr 08
I think it is getting tough all over the world now. Here in the UK some mortgage companies who had passed mortgages for people have suddenly, at the last moment, withdrawn them. Personally, if they did that to me, I would never use that bank again for anything. Then one day, if I was to become very rich, they would not have my custom.

• United States
6 Apr 08
Hello! Well, it is pretty much the same here. You have to have good relationships with other companies (good credit) by paying your bills on time, and making a down payment. Also, you have to make monthly payments to pay the house off. It's important to make monthly payments ontime for all your bills. Pablo

• United States
6 Apr 08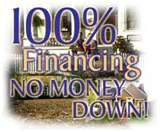 In the states it's like that. It's very hard to buy a home unless you have some kind of help or a large down payment. Luckily for us, hubby was in the military and was able to use his VA loan which doesn't require a down payment however there are other ways to buy a home without a down payment but one has to do a lot of digging to find it.