The Fishing Hole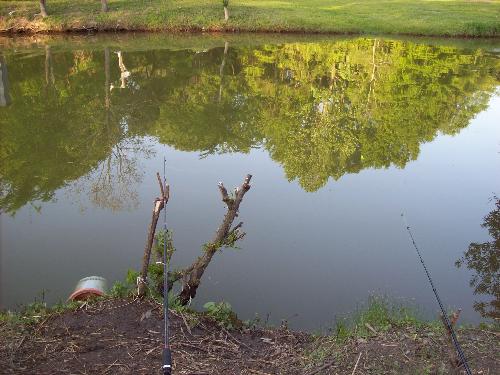 United States
April 15, 2008 7:02pm CST
I wanted to share a new picture with you. It's the view I've had for the last few weekends and it's very relaxing after a long week of work. Hubby and I have been camping and crappie fishing on some family property in east Texas. There is only electricity on the property and we camp in a tent each year as we clear the overgrown weeds and vines. Hubby's first chore when we get there is to mow to this spot on the edge of the creek. After working during the day, this is the view we have in the evening as the sun starts to go down and the fish start biting. :D
4 responses

• United States
16 Apr 08
wow lynn I think I need to take a week and come and visit and go camping, looks so peaceful.I am just thankful spring is finally here in minnesota so the weather will warm up.My relaxation at the end of the night is watching the moon in the evening out of our bay window in the countryside.Love those crappies too my dad fishes and always brings me a couple batches every year.

• United States
25 Apr 08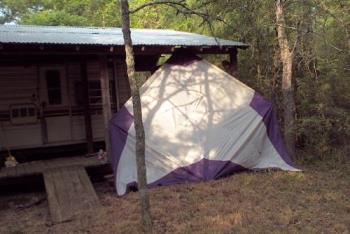 We're taking advantage of the good weather while we can. We've been here in July and it can be miserable if you don't bring along a few comforts from home. Hubby recently bought me a solar shower so we can take a nice hot shower after working on the cleanup all day. You fill the bag with water & set it in the sun for a few hours & it really does get warm. Hubby didn't think about where we would take a shower when he got it though. This was what I came up with, lol.


• United States
25 Apr 08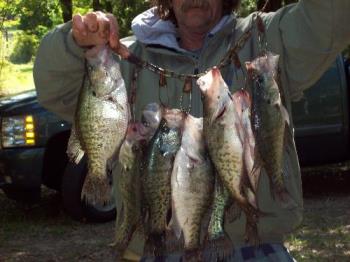 The last time we went, I only caught two the whole weekend. Hubby did well though. He got to clean 34 fish and asked me to take a pic of the largest ones. :)

• Gold Coast, Australia
16 Apr 08
What a lovely spot Lynn - the fishing hole looks so peaceful. What a great way to relax after a day of hard work. Do you eat the fish you catch?

• United States
16 Apr 08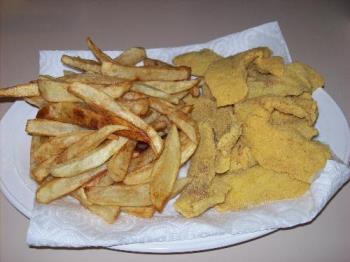 As a matter of fact, we do, yummy. Here's a pic of tonight's dinner. Fried Crappie fresh from the fishing hole.


• United States
25 Apr 08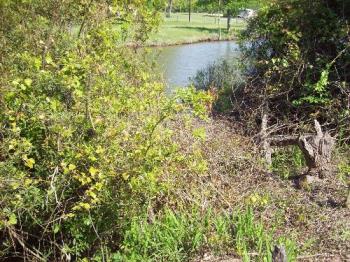 It is great to get away from everything on the weekends. Of course, it's better after the clearing gets done. No ringing phones, no kids running in & out, just watching the bobber. :D