oh how beautiful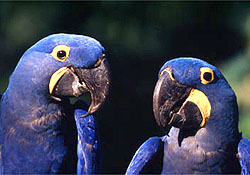 India
April 18, 2008 6:36am CST
oh how beautiful can they be. they are a true creation of god, has any one seen them in person. i have never had the opporunity to do so. i would have loved to see one in person though i do not believe in keeping birds at home as it is cruel to cage such beautiful creatures of God.
1 response

• Garden Grove, California
18 Apr 08
You would love our swarm of parrots that come here each spring from colder areas.Our tustin flock of parrots of several different hues all so gorgeous and they stop in our many trees and you can see the vivid hues of blues and yellows and greens. they make a might squacking as they settle in. we get them here ever spring and are so lucky to get to see them. a beautiful sight indeed.